Delayed decisions: The wait for college decisions causes students to fall behind their peers
As the school year comes to an end, most seniors are eager to graduate and move onto college in the fall. Many students already have made their college plan, but some are still waiting for their college decisions to come. 
While many students who have applied early decision or early action have received their acceptances and already committed, many regular decisions will come out this spring. An issue that arises, however, with regular decisions is that there is less time for students to catch up on things like housing applications and finding roommates. 
Students who go to University of Iowa find out within a couple of weeks of applying if they were accepted or not. This allows for students to quickly commit and begin preparing for college. Facebook groups are formed early in the semester for students to make new friends and find a potential roommate. Students also rush to fill out housing applications in order to get their first pick of dorms. 
Senior Ani Pradeep is still awaiting a couple more decisions from colleges.. "I definitely feel more pressure from the fact that my peers have already committed to college. It makes me feel noncommittal and scared for the future knowing others already have plans, and I don't," he said. 
Students waiting on decisions miss out on these earlier opportunities and end up falling behind compared to their peers. Things like housing and roommates become more difficult, as many students at their prospective colleges have already committed because of their early action/decision applications. 
"I am very concerned about roommates and housing because it is something that could affect your social life a lot. During freshman year I will be under a lot of stress, and dealing with a bad roommate can be very detrimental," Pradeep continued.
Senior John Molyneaux is also waiting to hear back from his colleges. "I don't really feel behind any of my classmates, but I am concerned about not getting the best housing because of people hearing from my schools before me," he explained.
Although all of the waiting could be worth it, it might also cause additional stress for students. "It's been kinda stressful waiting for the schools to release their decisions," Molyneaux added. 
As schools near the deadline to release decisions, the prospect of college is becoming more and more real for seniors. Regardless of whether students have committed or are still waiting, all students will soon be preparing for the next chapter of their lives. 
About the Contributor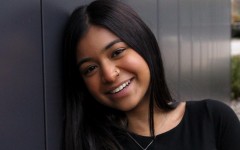 Muskan Basnet, Copy Editor
Senior Muskan Basnet is a Copy Editor for The Spartan Shield this semester. Outside of the The Shield, Muskan spends her time working at Dunn Brothers...