A balancing act: The stress of managing school and work for teens
The bell rings, school is done for the day at Pleasant Valley High School. Senior Morgan Rinker has to race to her car to beat traffic in order to make it to work on time. 
But for Rinker, her day is just beginning. She has a long six hour shift ahead of her at the Bettendorf Hy-Vee. She will spend her evening shopping orders for those who do not feel safe enough to enter the store during the COVID-19 pandemic.
She does not receive any sympathy for her work from her coaches or teachers, though. She will still be expected to finish her assignments and get a workout in before the morning.
The next day comes and Morgan gets up at 6 A.M. to go to her mandatory workout for spring athletes. There is a buzz in the hallway about that night's big basketball game to head to state. Unfortunately for Morgan though, she is unable to attend. She has an eight hour shift that night.
After getting off of work around 9 P.M., Morgan can not wait to get some sleep. Although she can't expect to get much as her boss asked her to come in early around 5 A.M. "I spend so much time at the store I have little time to do anything else besides work," she said. 
Morgan is not alone, this is a reality for a wide variety of Pleasant Valley students. They put in 30 or so hours a week of school and another 30-40 hours of work a week on top of that. They still have the same responsibilities as other students, just a lot less time to get them done.
These students receive very little recognition for their sacrifices. They give up time with family and friends, their days off and most of their free time.
For some, like senior Jack Umland, working even cost him his ability to play baseball. "I had to make a decision, I love baseball and I love to work. The demands from both were too high to keep doing them, so I decided to work to save for college," he said.
It is rare for Umland to work under 40 hours a week at his job at Tony Sacco's Pizzeria in Eldridge, Iowa. Like Rinker, he has to rush from school to work. 
 After getting off so late, it is hard to find the will to do any homework. "I have to dig deep to get my school work done. I have school lifting a few days a week, so I really just want to go to bed after work," said Umland. 
Umland and Rinker are not celebrated for their work like athletes. Student-athletes get extended deadlines, but student-employees get nothing. These employees get asked to do more and more every single week, eventually something will have to give.
About the Writer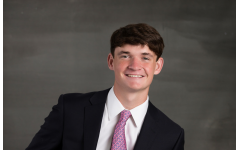 Alex Thorne, Business Manager
Alex Thorne is currently a senior at Pleasant Valley and will serve as the Business Manager for the Spartan Shield. Alex has a twin sister, Anna, who is...