The view from the Valley: When parental interest becomes intense interference
Junior and senior students at North Scott High School (NSHS) in Eldridge, Iowa have banded together in support of their teachers after the teachers were met with backlash from parents over a writing assignment in a dual-enrollment composition class. 
In a year where teachers have seemingly faced endless challenges as they navigate the ever changing and unprecedented circumstances brought forth by the COVID-19 pandemic, one teacher at NSHS has been forced to face another obstacle. 
The teacher, who teaches a composition class in adjunction with Eastern Iowa Community Colleges (EICC), was met with threats and outrage from parents after assigning a paper for students to examine their bias and learn about the backfire effect, which is when one maintains their beliefs despite learning evidence-based information that contradicts it. 
Students were to select a topic from a list of claims that they disagreed with and then write a rebuttal, recording how they felt throughout the process. Despite student support of both the assignment and their teacher, many NSHS parents were outraged, claiming that the list was too politically polarizing. North Scott senior McKenna Santee was among one of the students who stood up for the teacher. "All of us students came together because the parents were spreading false rumors about the assignment," she explained. "She is one of the best teachers at North Scott, and the students knew we needed to stick up for her." 
However, the response from parents begs the question: where are the boundaries parental involvement in curriculums? It is understandable that parents want to ensure their children are being given the best possible educational opportunities, yet when genuine parental interest turns into the harassment and threatening of a teacher, have they gone too far?
Even though the class is not taught on a college campus, it is still a college level course. It is unfathomable to think that a parent would approach a professor at a larger university, like the University of Iowa or Iowa State University, demanding that they change their curriculum because they find it too "polarizing" and "political."
Further, The class is designed for juniors and seniors, who range in age from 16 to 18 years old, by a higher learning institution. Should the students not be anticipated to address more complex and mature topics? 
Santee believes so. "This is a college class, so [parents] should know that their child will be talking and learning about world topics," she said. 
Pleasant Valley (PV) senior Morgan Sorenson, who took the same composition class directly through Scott Community College, agreed that students taking more advanced classes should be capable of discussing worldly and controversial topics. 
"The kids who took the class obviously knew that by enrolling in a college level course, you are expected to do more difficult assignments, which is something they signed up for and their parents most likely approved," voiced Sorenson. 
At this point, it is no longer reasonable or logical for parents to censor their children's curriculum, especially as many of the students are preparing to enter into the real world on their own for the first time in their lives in only a few, short months. 
This assignment served as a connection to the real world, where a person may not always be met with information that agrees with their beliefs and opinions. The parental interference in this situation hinders and harms, not helps, their own children. 
"I think that the parents were overstepping their boundaries because it is not their place to critique how a teacher teaches when they are not in the classroom and their kids should be able to make decisions on their own by now," Sorenson commented. 
The response by these parents seemed to be more childish than their children's, whose own maturity and ability to handle real world situations was demonstrated through their support for their teacher at a board meeting and on the unofficial North Scott Barstool Twitter page. As students get older, it is necessary to expose them to different perspectives and ideologies, and parental interference can lead to detrimental outcomes as their children enter into society. To North Scott students and the teacher: we support you and appreciate your efforts to pursue a more accepting society.
To North Scott students and the teacher: we support you and appreciate your efforts to pursue a more accepting society, especially in a year that is already so divisive. 
About the Contributors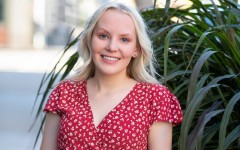 Ingrid Hofmann, Editor-in-Chief
Ingrid Hofmann is a senior at Pleasant Valley High School and serving as the Spartan Shield's Editor-in-Chief this year. She is a involved student, participating...
Paris Fietsam, Social Media Manager
Paris Fietsam is currently a senior at Pleasant Valley and is the Social Media Manager for The Spartan Shield. She is heavily involved in extracurriculars...