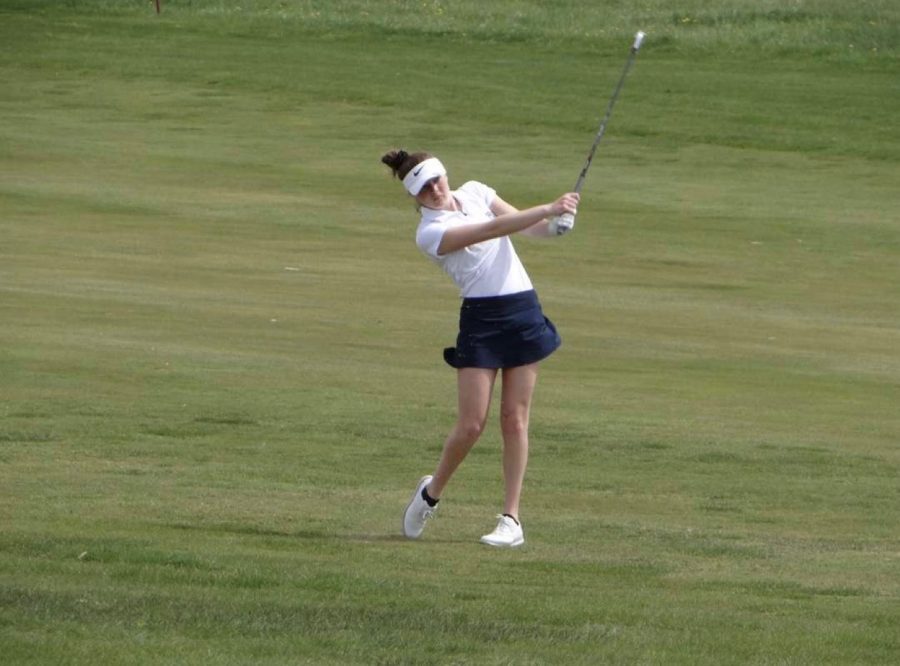 Erika Holmberg
When junior Erika Holmberg came into the high school as a 5'4 freshman, she was not seen as an athlete. She was well known for being an exceptional musician, but her athletic abilities were completely overlooked. 
However, she proved everyone wrong by finding success at the start of her high school golf career. As a freshman, she was first team all conference, second team all state, a state qualifier, and the MAC individual runner up. While she did not have a sophomore season, she continued on with all conference and MAC individual runner up her junior year. Along with this, she was Quad City Women's amateur champion, 2nd time DCC Womens' Club Champion, and ranked the fourth best player in the state of Iowa for the 2020 season.
She has been playing golf since she was five years old, hence her surplus of achievements. It all started with her parents' extreme interest in golfing. "One day when my dad went out in the yard to pitch around I followed him and took one of his clubs to hit a shot, and my dad thought I had a pretty good swing. That's when he started taking me to lessons at our local country club," Holmberg explained.
She learned the talent she had at a young age, and quickly began putting it into different areas. "I began integrating my passion for playing into taking on competitive tournaments both through organizations such as the AJGA, or through High School Golf," she stated.
Along with sports, she has balanced an exceptional career in musical theatre, choir, and band. Throughout high school she has had a plethora of achievements. This includes choir and band All-State selectee, SEIBA jazz and honor band Selectee, 2021 QCYSO Concerto Competition Winner and 2021 Quad City Wind Ensemble Concerto competition winner. While being a strong athlete, she is an exceptional musician as well.
Throughout high school she had led her team to multiple championships. She is sure to have multiple colleges reaching out to her. "I plan to take my passion for golf to the collegiate level and continue playing for years to come. I would like to attend a college that will allow me to prosper in both my golf and music endeavors," she expressed.
While the future is uncertain, Holmberg has hope and a positive outlook on her future golf career. Having achieved such success at a young age is a glimpse into the future.