Spring sports start hot: PV sports continue their winning streak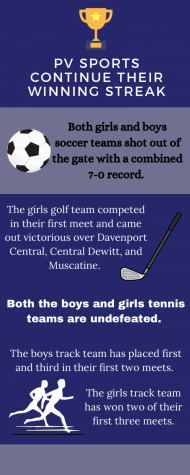 After all spring sports were cancelled last year due to COVID-19, Pleasant Valley (PV) spring athletic teams are off to a hot start after two years without competing.
As soccer, track, tennis and girls golf all kickstarted their seasons in March, they wasted no time making up for the time lost last year.
Both girls and boys soccer shot out of the gate, giving them a combined 7-0 record. The boys have collected wins against Dubuque Wahlert, Clinton and Assumption, and the girls topped Iowa City High, Clinton, Ankeny and Waukee.
The boys soccer team has outscored their opponents 16-0 so far this season with the help of Jack Roemer, a senior captain for the team who is a part of the defense that has not allowed a goal in the first three games.
Defense is a point of emphasis that head coach Wayne Ward hammers in practice, which has proven to be successful thus far. "We just play together and trust each other. We communicate well and get the job done to keep Gabe [the goalie] and the goal safe," Roemer said. 
The girls are not far behind the boys. They have outscored opponents 17-5 so far, as freshman Morgan Russmann leads the team with eight goals this season.
Russmann plays forward for the Spartans and has filled her role quite successfully through the first four games. "My teammates make everything possible. They give me the opportunities to score and I have been able to capitalize on them," Russmann said.
Aside from the soccer field, the Spartans are excelling on the track as well. The boys team has placed first and third in their first two meets and the girls have won two of their three meets to start off the long awaited season.
Senior Emily Wood, a four sport varsity athlete has been a very valuable member of the track team since her freshman year.
Wood typically competes in the 100s, 200s, 400s and 400 hurdles and has qualified for the Drake track meet in at least one race every season.
Success has become an expectation for Wood, as she has qualified for Drake every year in track, made it to state every year in softball and been to state the last two years for volleyball. "This is my last chance to compete in high school sports so I just want to make the most of it. I have had some amazing opportunities throughout the last four years and I want to end it all on a high note," Wood stated.
The girls golf team competed in their first meet Thursday, April 8 and came out victorious over Davenport Central, Central Dewitt, and Muscatine.
Both the boys and girls tennis teams are undefeated as well, as both teams topped North Scott, and the boys have also beaten Muscatine. The boys have not lost a single match yet through two meets.
Since the cancellation of spring sports last year, starting with baseball and softball over the summer PV has sent every sports team to state with the exception of wrestling, who sent 5 qualifiers to state, and girls basketball. The Spartans are looking to keep this streak alive with the talented sports teams in action this spring.