The senior impact: Students reflect on the senior class as seniors get closer to graduation
The end of the year signals the start of goodbyes for many PV students. As seniors graduate, younger students are left behind at school to continue the rest of the year without these upperclassmen. 
The connections that many of these students have created over the last few years have become impactful to many students, but what happens as the seniors celebrate their last few days of high school?
It can be difficult for underclassmen and upperclassmen to mingle when their classes are so different. But extracurriculars are often where younger students can become friends with the older students they might not have normally met. 
For athletes, sports are an important part of their daily schedule, taking up much of their after school time. As students spend more time with each other doing their sport, the bonds they form become stronger. Older students become role models for younger students and help them grow as athletes and as people. 
Junior Cece Fierce, a varsity cheerleader, knows she will miss one of her closest teammates and friends, senior Ceely Patramanis. "Ceely was pretty much my mentor through all of cheer. Obviously when I was younger the seniors at the time were the people I looked up to the most. Ceely has always helped me with cheer and school as well," she commented. "Reality hit me a couple of days ago that [the seniors] were leaving, and I would never see most of them again. Being a year below them and being fairly involved, I am going to miss a lot of people I looked up to in the senior class."
The feeling is not just one sided though; Patramanis will also miss the underclassmen she has met over these last four years. "I feel really grateful for all the memories that [Cece and I] have shared and for the relationship we have built, but I feel so sad knowing I can't just come pick her up whenever I want to talk," she explained.
"Cece and I had previously known each other through mutual friends but got extremely close through cheer. I think that I have probably taught her just as much as she has taught me. Our friendship has changed me for the better and I don't know where I'd be without her," Patramanis continued.
Even for students not involved in sports, seniors have become some of their closest friends. Through the many clubs and organizations at PV, students have been able to become friends with each other regardless of their age. 
In organizations like Spartan Assembly, younger students often come in with minimal leadership experience. The executive board of the council is composed of juniors and seniors with experience in leadership, organization and responsibility. These executives quickly become role models for younger students as they navigate the waters of student council. 
As a first year Spartan Assembly member, sophomore Sumika Thapa has formed stronger connections with seniors this year. "Seniors have impacted me so much by showing me how fast high school goes by and how I should enjoy as much of it as possible. They have shaped me into a stronger leader, and I am forever grateful for that," she expressed.
Despite the seniors graduating soon, younger students will carry the experiences they shared and what they have learned with them for the rest of their lives.
The graduation of the seniors hits harder for some students than others, specifically the junior class. Being only one grade below the senior class, the juniors have been with the seniors throughout all of their academic careers. Even in junior high, they shared the same experience being the only two grades in the school. 
As the year wraps up, many students are reflecting over their relationships with the senior class of 2021. Junior Megan Schiltz, a varsity basketball player at PV, reminisces her experience with the upperclassmen this school year. "When I think about next year, I subconsciously think that the seniors I am close with will still be here. It's very sad to know that I'm not going to see them at school everyday or be able to hangout with them outside of school as much," she said.
Schiltz also considers many of the seniors she is friends with as role models. "I look up to many seniors from basketball but most importantly Isabel Russman. She is hands down the hardest worker I know, in basketball or in anything," Schiltz continued. "Everyday I went to basketball,  I looked forward to seeing her because she is such a great person in and out. I'm definitely going to miss her and the rest of the seniors from basketball next year."
About the Contributor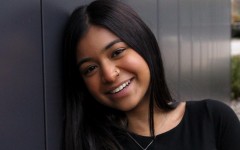 Muskan Basnet, Copy Editor
Senior Muskan Basnet is a Copy Editor for The Spartan Shield this semester. Outside of the The Shield, Muskan spends her time working at Dunn Brothers...