Yearbook woes: Ella Litchfield's perseverance as yearbook editor-in-chief
Either during the summer or the beginning of next school year all returning PV students will line up to receive their beloved yearbooks from the previous school year. There is nothing like the feeling of getting to flip through those pages reliving all of the events and seeing all of your friends knowing that you have made memories to last a lifetime. 
During the year, many students are asked for quotes and pictures to be included in the yearbook, but they do not see all the ins and outs of the yearbook process and what happens before and after they are probed for yearbook resources. 
Yearbook editor-in-chief Ella Litchfield has been through this before. Her first time taking publications was as a sophomore, then junior year she was promoted to co-editor-in-chief and this year she is doing it on her own. 
Litchfield has a passion for all things yearbook; she loves both the leadership and creative aspects of her roles, and she has stepped up in times of grave need. 
Last year the world stopped for everyone when the spread of COVID-19 became a national emergency. Even when school was cancelled publications pushed through and kept working on their commitment of completing a full yearbook, which not many other schools can say. 
They had to scrap spreads, 2 pages of the yearbook with a common theme, and find things to put in their place. This year's circumstances were no different. With tight COVID-19 restrictions at the beginning of the year they were not allowed to go to many different events and struggled getting coverage. 
When publications sends members to "cover" an event, one of their main jobs is to take pictures they can use for both the print shield and the yearbook. In previous years, it has been tradition to send two people: one more experienced photographer and somebody who is learning. This year they could only send one, limiting the quality of photos and learning experience the class is known for providing. 
Litchfield remembered a time when their team got kicked out of a certain drama event. "Some of our members went to the play 'The Theory of Relativity' and were forced to leave before they could get any pictures," she explained. "Drama is a big part of the yearbook every year and without pictures there is nothing to fill the pages.Thankfully, a teacher had been there taking photos."
The hybrid model also caused problems for Litchfield and her yearbook team because it became harder to hold people accountable. Creating the yearbook is a team effort and without seeing everyone each day many fell behind on their work, forcing Ella to pick up the slack. 
Thankfully, she has a full team of hard working students there to support her along the way.  Junior Nirmal Alla is committed to helping create an amazing yearbook for this school year and is one of Litchfield's biggest supporters. 
Alla has experienced Litchfield's leadership within publications. "Ella sets a great example with all of her hard work, which makes us want to help create her vision for the yearbook," Alla said.
Being yearbook editor in a regular year is a big time commitment in itself. Litchfield stays every day after school to continue her hard work on the yearbook on top of her work for all her other classes. She stays extremely organized and manages her time well in order to stay on top of all her work. 
Even through the highs and lows of creating a yearbook this year, Litchfield is proud of what she and her team has accomplished. "I am super excited to finally get a copy of all our hard work in my hands." she remarked. "It makes me happy to know I created something we all get to share and enjoy."
About the Writer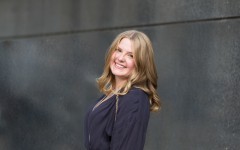 Lauren Guinn, Opinion Editor
Senior Lauren Guinn is the Opinion Editor for the Spartan Shield. When she's not busy with school, she is usually at her dance studio both teaching and...