Revoking Responsibility: new Iowa bill passed forces schools to no longer enforce masks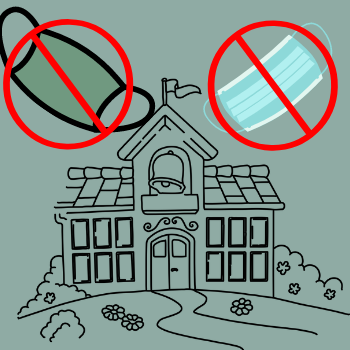 The safety of schools, counties, and cities are now put into jeopardy due to the recent bill signed into law by Kim Reynolds, banning the enforcement of masks. While still in the midst of the COVID-19 pandemic, Reynolds decided to target the safety of schools, specifically, and stated the choice for students to wear masks should be up to their parents.
As the age to receive the coronavirus vaccination was lowered to twelve years old, many students are not vaccinated yet. Meaning, one parent or student's choice not to wear a mask can put a multitude of students' health at high risk. Schools are supposed to be a safe space for all students and this removal opens another avenue of danger that students are susceptible to.
With only a couple of weeks left of school for the year, this ban is not only dangerous but unnecessary. Schools have enforced masks for an entire year to allow students to safely learn in every building, so two or three more weeks of mask-wearing in school should not be a difficult obstacle for students to overcome. 
Sophomore Hailey Brewer is among the individuals who do not support the timing of the ban. "The ban of masks was a little ineffective especially considering the small number of school days left in the year," she stated. Although this bill was passed to allow individuals freedom to choose if they want to wear a mask, it pushes those with concerns about obtaining the virus into a corner.
Not only are students put at risk from this controversial ban of mandating masks, but school faculty and family members are now more susceptible to the virus. Although the majority of teachers and high school students at PV are vaccinated, they are not completely safe from the virus because the vaccine is only guaranteed to lessen the severity of symptoms. 
Teachers and other faculty members are not allowed to enforce mask wearing for their own safety, as well as other students. Business owners, unlike school officials, have the choice to enforce the wearing of masks. Schools no longer have the authority to hold this same enforcement above their students.
Senior Jaden Waterhouse understands Governor Reynold's choice to allow individuals the choice of wearing a mask but also sees the strain put on schools by this bill. "Since we are so close to the end of the year, this bill is pointless to be passed, when we have been wearing them all year. Schools should be able to mandate masks to ensure all the students are safe and healthy in school," Waterhouse stated.
As stated previously, schools are a place where students should be safe, and parents should feel comfortable sending their children. Safety covers a wide range of topics, and the pandemic is included in this category.
Throughout the year, not one student has contracted COVID-19 by attending school at PV, but the likelihood of this now occurring is greater. Although students are given the choice to attend school online, many will choose to continue attending school full-time over their own safety because of the short time left in the school year.
The decision Kim Reynolds made to ban mask mandates was a pure power move. There was no consideration for schools and the timeline of the school year was not considered by her or the Iowa General Assembly, as the passing of this bill was purely politically motivated.