Pleasant Valley's class of 2022 overcomes National Merit hardships with the most semifinalists in school history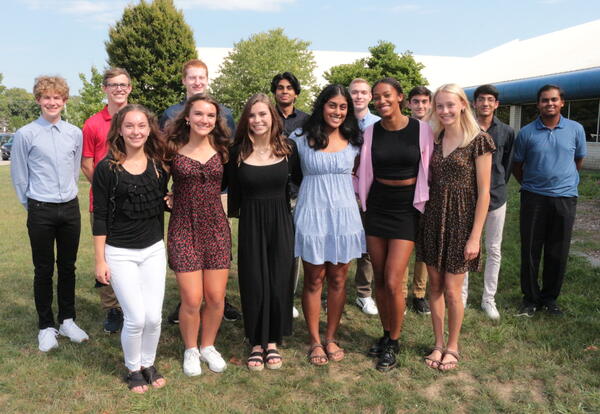 The National Merit Semifinalist title is one of the highest achievements that can be earned by high school students. This year, PV is proud to have the most students to earn this title in school history.
In order to earn this prestigious award, students must meet a multitude of rigorous qualifications. These qualifications include an outstanding highschool record, participation in numerous extracurricular and community activities and exemplary experience in leadership positions. An SAT score of at least 1410 is also required for consideration as a semifinalist for National Merit. 
An SAT score of 1410 alone is remarkable, but the amount of time and effort that goes into being involved outside of academics is something that should not be overlooked. Students who are able to exemplify character alongside academic success are deserving of recognition, and that is what National Merit provides. 
Because of the rigorous requirements, National Merit is something that prospective students need to have on their minds all throughout highschool. It provides something for them to work towards and keeps students motivated.
PV National Merit Semifinalist Lila Teitle has had this achievement on her radar since junior high. "National Merit is something I set as a goal for myself in 8th grade and have been working for ever since," she said. "I spent a significant amount of time studying for the SAT to earn this award, and I'm very excited that I was able to achieve the score necessary to become a semifinalist."
The amount of work that goes into being selected is remarkable, which is why PV is so thrilled to have so many semifinalists this year. The fact that fourteen students met the qualifications is very impressive. 
Another semifinalist, Kavya Kalathur, described how excited she is to be part of such a successful class. "I think it's really cool to see so many of my peers qualify this year! I love being part of a class full of focused and driven individuals," she shared. "It shows that we worked hard and also that our teachers have helped us significantly through the years."
If applications had followed the timeline of a normal school year, most students would have applied for National Merit using their PSAT scores from their junior year. Unfortunately, the PSAT test date for juniors of the class of 2022 was cancelled, which left them having to use scores from the actual SAT test which they could not take until months later. This bump in the road made it much more difficult for students to complete their applications, and only added to the stress that already comes from applying for National Merit.
Kalathur also explained what this experience has taught her about perseverance and how it will aid her in future endeavors. "From this experience, I learned that my persistence pays off. I think this knowledge will make me more driven to achieve my goals and support my future endeavors more than the achievement itself," she mentioned.
National Merit is an amazing opportunity for students who excel in academics as well as extracurricular activities, and the record number of semifinalists this year despite some setbacks is an outstanding achievement for the class of 2022.