Understanding the roles of equity and equality in the classroom
The words "equity" and "equality" are used frequently in education, but how often are they discussed using their proper definitions? 
As of 2020, 48.1 million students in the United States were enrolled in public schools. 7.3 million of those students were enrolled in a special education program, and many students were enrolled in a Gifted and Talented or Extended Learning Program (ELP).
These numbers should be attention-grabbing – with an increased number of students receiving learning accommodations, it is important now more than ever to provide them with excellent opportunities based on their individual needs. 
The question becomes: How can we best meet individual learning needs? Should our focus be more on equity or equality? 
Fostering excellence starts with an understanding of both equity and equality. According to the Milken Institute School of Public Health, "equality means each individual or group of people is given the same resources or opportunities. Equity recognizes that each person has different circumstances and allocates the exact resources and opportunities needed to reach an equal outcome."
How does understanding the difference between these two words play a role in classrooms across America?
At PV, two of the programs that provide students with extra resources to succeed are its special education and ELP programs. Both approach equity and equality from different perspectives but have one common goal – the success of their students.
Special education teacher Gina Weaver is intentional to involve the concepts affiliated with equity in her classroom. "In my room we focus on the idea that not everyone gets the same thing. Everyone gets what they need," she shared.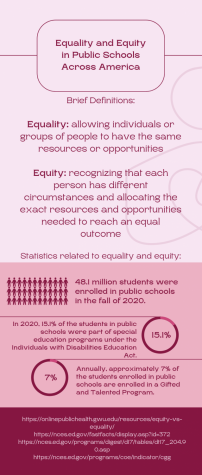 While meeting students' individual needs, Weaver is intentional to use phrases like "differently abled" rather than disability as she advocates for fairness for all students. 
Weaver is joined in her efforts to help students succeed by Jake Ridenour, who works in PV's ELP department. Ridenour has worked to involve aspects of both equity and equality in his classes by "providing the appropriate resources for an individual or group to be successful." 
To identify students who may need these resources, Ridenour goes through an identification process which occurs in the elementary, junior high and high school levels. During this process, Ridenour is guided by his belief that "students deserve to have equal access to all resources and opportunities. This is equality. However, students also deserve to have school faculty and staff who are evaluating student needs and providing extra resources when necessary."
While providing students with equal opportunities is an aspect of PV's ELP program, many similar programs are being criticized for not properly doing so. In fact, many Gifted and Talented students across the nation have recently been left wondering if they will be able to continue in their programs due to opinions such as those held by New York City Mayor Bill de Blasio. 
De Blasio strongly believes Gifted and Talented programs perpetuate inequality, and is in the process of replacing the program in New York City. His new plan, called "Brilliant NYC", "will deliver accelerated instruction for tens of thousands of children, as opposed to a select few. Every New York City child deserves to reach their full potential, and this new, equitable model gives them that chance," he shared.
This is where the importance of understanding the difference between equity and equality comes in. 
While De Blasio's new plan focuses on equality, it does not necessarily achieve the equity he claims it will. De Blasio's plan will eliminate segregation in schools related to ELP programs but will not achieve equity in its entirety due to the fact that equity is twofold and involves both the provision of resources and equal outcomes.
The goal to end inequality in ELP programs has also been furthered by the National Association for Gifted Children, which is working to create equity for students of all races in gifted education. The association, however, does not describe how they will work to eliminate barriers between students who have been labeled as gifted and those who have not. 
After all, what determines a "gifted" label? Many believe that there are lots of students who could advance as a result of placement into a Gifted and Talented Program but have not been able to experience these benefits. This is because they have not been given the opportunity to participate in them. Unfortunately, this negatively impacts up to 3.6 million students.
This raises the question: Will true equity ever be achieved in general education? It appears that the students labeled as "gifted" are consistently separated from others when discussing the achievement of equity. Is equity between students identified as gifted and other students truly achievable? If not, should schools be directing their efforts to equality instead of the illusive concept of equity?
While discussions about equality and equity are just beginning, it is important to begin future conversations surrounding their purpose in the classroom with a foundation that involves proper definitions and a common understanding of how they affect programs such as special education and ELP.