Colin Kaepernick attempts to revive his NFL career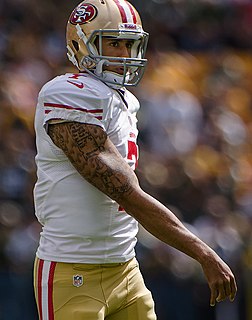 Five years ago, NFL quarterback Colin Kaepernick stood up to social injustice by kneeling during the national anthem before games. This later led to rumors of his release from the San Francisco 49ers due to his protest becoming a "distraction to the team." 
On March 3, 2017, Kaepernick opted out of his contract and became a free agent at the start of the new league year on March 9. Kaepernick has not been given an opportunity to return to the NFL since.
The debate within the NFL community is whether Kaepernick has failed to field another position in the league due to his vocal stance against racial injustice, or if he just simply is not a good enough player to be in the league.
Junior Ike Swanson believes that Kaepernick is very deserving of another chance in the NFL. "Kaepernick has put in a lot of hard work during his hiatus. I've watched a lot of videos of videos of him and he's looked really good. I think he definitely deserves at least a workout with a team to show them what he can do. He's definitely deserving of at least a backup role for a team in the league," stated Swanson.
Not everybody agrees that Kaepernick deserves another shot in the league, though. Senior Ryan Groenenboom struggles to understand why Kaepernick wants another shot in the NFL. "Colin Kaepernick has compared the NFL to slavery before, so it is a bit odd he wants to play in the NFL again. He has all the tools to be successful, so if a team wants to sign him then great for him," said Groenenboom.
Many teams have recently reportedly been interested in bringing in Kaepernick, but none have offered him a contract or even been willing to host a workout for him to show them what he is able to do. This puts into question how interested these teams really are. Are organizations in the league really interested in the quarterback, or do they just want to pretend they are interested so that they do not appear to be against his stance against social injustice?