A Star From The Beginning: A look Into The Rise Of Tennis Player Lauren Masengarb
The top spot on the girls tennis team has been dominated by a young star despite her lack of varsity experience.
Lauren Masengarb came into the girls tennis program last year as a freshman. Upon arrival, she earned the No. 1 spot on the team. 
At the Pleasant Valley Junior High School, there is no tennis club, so Masengarb was not able to get a feel for the Spartan tennis program and what it had to offer. This in turn made the transition to high school sports a little different. "It was pretty intimidating coming into my first high school season," she said. "I had no clue what to expect."
Despite an unusual transition to high school sports, Masengarb was a standout from the very beginning. She locked up the top spot on a very successful Spartan tennis team.
With the No. 1 spot on the team, there comes a lot of expectations to maintain her best form. "There definitely was pressure that came with being number one, although it was greatly eased by the support of the rest of the team," she said.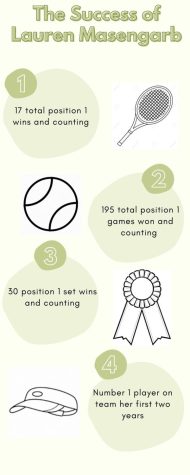 "They were always there to back me up whenever I was nervous. Along with the support of my team, despite being a freshman, I was confident in my abilities." With the support from her teammates and a top level of confidence, Masengarb had a very successful freshman season. In her first year, she won eight of her nine matches played while winning over 80% of her sets. 
The accomplishments from last year are another huge stepping stone for Masengarb as she plans to use them to her advantage in her second season. 
"I have used my success from last year to motivate me to be a better player," Masenbarg stated. "I always take every win and lose and think about what went well, what I could have done better, and what I can work on." The tennis star has a bright future ahead of her after coming off very successful seasons as an underclassman. As Masengarb continues to excel at the varsity level, she looks to continue to use her knowledge and skills to help develop herself as one the best in the state.