Pleasant Valley boys shuttle hurdle team takes home gold at Drake Relays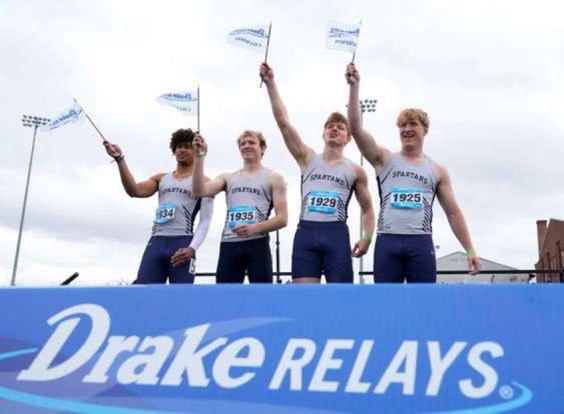 Last week, Pleasant Valley's track team made a strong appearance at the annual Drake Relays. Runners from all over the state came to the meet to take their mark, but Pleasant Valley's boys shuttle hurdle team stood out from the rest and took home the gold amidst the competition.
At Drake Relays, the qualifying times are faster than the qualifying times for the state meet. Also, instead of being broken up into brackets pertaining to school size, all classes from 1A to 5A run in the same category.
Leading up to the race, head coach Phillip George knew that tensions were high. "I kept practicing the same for the relay, and we trained through the meet in hopes of tapering later for districts and state," he said. "I still made it a point to talk to the boys during the week because of their high chance of winning Drake. They were the favorites, and we wanted to keep it that way."
The runners in the race were senior Grant Necker and juniors Makhi Wilson, Daniel Zietlow and Max Doran. They won in a staggering time of 59.48 seconds. "Winning Drake was definitely an incredible experience that I will never forget. It really showcased all of the work the team has put in," Zietlow said.
In comparison to most other track events, hurdles is not only a strenuous race, but also a technical one. George was incredibly pleased with the team's performance. "There were a couple of hiccups during the race, but I am nothing but proud of these young gentlemen. There is a lot of work that goes into training for hurdles, and I often saw a couple of the guys training in the winter at our indoor practices," George stated.
Not only is the relay's time remarkable, but it is also the first time that Pleasant Valley has run the famous "victory lap" at Drake since 2016. That year, Kamaron Sommer won the two-mile race and took home gold for Pleasant Valley.
"It is a big goal for us to win state this year," said Necker. "After Drake, we have a lot of new-found confidence that will hopefully drive us to do our best. We are definitely nervous, but I'm sure our opponents will be as well."
As the runners are presented on a large stage, there is a lot that goes through their head. Even the slightest bobble over a hurdle can make or break a race, yet they still managed to clutch the win even after one of the runners fell during the meet.
After this year, the Pleasant Valley shuttle hurdle relay's reign is far from over. With three returning members next spring, the relay is going to be strong for years to come. Necker will go on to the University of Iowa next year, and he has taken a lot from his time on the track team.
"Being in track has helped me learn how to handle pressure," Necker said. "When it comes to the amount of pressure that a race puts you, there is nothing like it. The pressure from this sport has really prepared me for other things in life that have major importance, and it helped me not falter when I knew that things needed to be done."
With one win in the books and hopefully more to come, Pleasant Valley is slowly becoming a powerhouse in the world of track and field.