Remembering a fallen Spartan: A tribute to Ian Kaffenberger
2020 Pleasant Valley graduate Ian Kaffenberger meant many things to many people: a loving son, a dear brother, a best friend, a winning athlete, an adored mentor, a role model, and more. And when Ian's young life ended unexpectedly on Aug. 26, it prompted countless members of the Pleasant Valley community to show the impact he made in his short 21 years.
Ian loved his parents, Aaron and Courtney Kaffenberger, and his two sisters, Josie and Aida Kaffenberger. 
A fun-loving child, Ian admired his childhood superheroes Buzz Lightyear, Superman and Batman, but never lost that youthful spirit as his childhood days faded. His mother loved that about him. 
It was also during his childhood that Ian found a passion for running– a passion that would come to help define his life.
Mrs. Kaffenberger remembers when that passion began. "[It was during] BPV baseball practice and Ian kept getting distracted talking to a teammate. The coach warned him a couple times to pay attention and, after the third time, [he] told Ian to take a lap around the field," she said.  She remembers Ian returning with a big smile on his face. "The coach, wanting to wipe the grin off Ian's face, said 'Well, why don't you take another lap?' Ian did the second lap faster than the first and returned again smiling," she recalled. "To Ian, running wasn't a punishment."
"The coach looked at me and asked, 'What should we do? He seems to be enjoying this.' My reply, 'Make him do push-ups,'" Mrs. Kaffenberger remembered. 
Throughout high school, Ian's passion for running became infectious, and he was always regarded as a well-rounded student by teachers and classmates alike. Cross country head coach Erik Belby was very fond of Ian as a student and an athlete. "He was just a great student. [He] did his work at school and came to practice ready to give it his all. He was just the best guy to have on the team. He would just be friends with everyone and spread his smile. It was a pleasure to coach him," Belby expressed.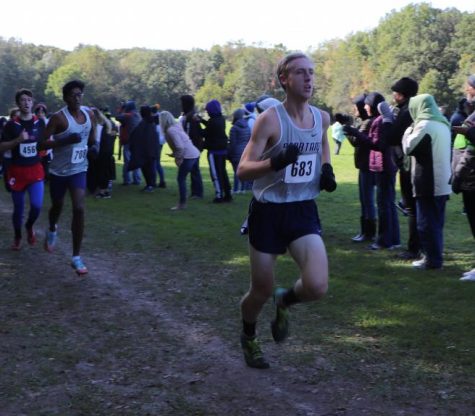 Ian was the team captain for PV's cross country team in 2019. He ran on PV's state championship team in 2017 and was the squad's No. 3 runner at the state meet as a senior in 2019, placing 16th. 
Ian ran with a stress fracture unknowingly for the first half of his senior season. Even after being diagnosed, Ian kept training and competing, successfully finishing his senior cross country season.
Varsity and senior cross country runner Jacob Mumey looked up to Ian as a role model and mentor. "He just carried a lot of happiness and wisdom with him. He always supported everyone, regardless of speed or seniority and motivated everyone to be at their best. My favorite memory of Ian was when he took the brace off the stress fractured leg and finished the race with a scoring time. It just shows how inspiring he was to me and all his other teammates," Mumey reminisced.
Running with an injured leg throughout his senior season, Ian set an example to the rest of the team through his persistence.
After graduating with PV's class of 2020, Ian studied business at the University of Northern Iowa for two years before transferring to Iowa State University in August. At college, he found a new passion for weightlifting, which he did with his childhood friend, Parker Kress.
Kress was one of Ian's best friends. In 2014, when Ian and Kress were in seventh grade, Kress was diagnosed with Ewing's Sarcoma, a cancer that occurs around the bones. 
Ian supported Kress through his difficult and confusing diagnosis. "I had only known Ian for a few weeks and we'd only spoken a few words to each other [at the time]. I was diagnosed with cancer and the second word got out, he texted me and was asking me to come up and see me at the hospital," Kress said.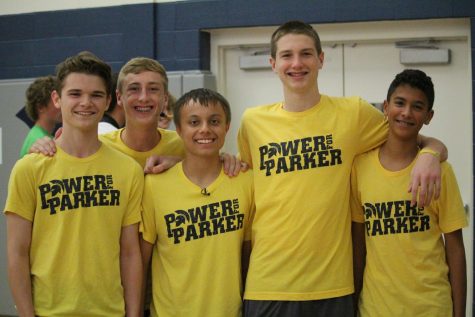 "That's who he was; he gave so much love and never asked for anything in return. From then on, we became family. He talked to me every single day, and came up to the hospital multiple times. But the most important thing he ever did for me during that was make me feel normal and made me forget I was even going through cancer," Kress said. 
Kress credited his best friend for far more than just a listening ear. "When I would get home from treatment, he would be waiting for me at my house and wouldn't leave until he had to because of school or whatever. I say this to everyone I talk to about this and I mean it 100%. He is one of the main reasons I'm still alive and here today. He helped me mentally through all of that and I truly believe I wouldn't have made it without him," Kress continued.
The PV community united in a movement called Power for Parker to support Kress. Ian was on the frontline for this movement. Through fundraisers and donations, Power for Parker supported Kress throughout his time in the hospital. Eventually, Kress fought hard with Ian's support and defeated the tumor, losing his leg in the process.
Just as the PV community united for Kress, they are uniting once again to remember Ian and support the Kaffenberger family.
The cross country team recently wore pink shoelaces at the Spartan Challenge race in honor of Ian. The motto, "Run for Ian," motivated the whole team as they raced at Crow Creek Park, one of the most challenging courses in Iowa. Picking up on this movement, many community members ran the local Run with Carl race, not only for its namesake, Carl Schillig, but also for Ian, to honor his love for running.
This movement allowed the Kaffenberger family to share Ian's message throughout the community. "The Run for Ian movement has helped us to keep his memory alive.  We want the world to know about Ian, and feel that through the movement, and his scholarship fund, we can continue to spread love and joy just like Ian did.  He will continue to make a difference in this world," shared Mrs. Kaffenberger.
In addition to the cross country team, the PV Platinum dance team has also come together to support the Kaffenberger family and Ian's legacy. "Platinum not only raised a lot of money for Ian's funds by making shirts, but they ran Run with Carl, made him a logo and stickers, and have provided my family with little gifts in remembrance of him," Ian's sister, Josie Kaffenberger said. 
"What I am most thankful for is just their presence. They stood by my family and helped keep us company on our hard days," Josie expressed.
Beyond PV, the Bettendorf community, too, has united in Ian's remembrance. The student sections of the highly anticipated PV versus Bettendorf football game are choosing to unite in honor of Ian. 
Both student sections' theme is GREEN OUT and many have purchased a special green Ian Kaffenberger shirt to honor his memory. Josie says this is well appreciated by her family. 
"Hearing that Bettendorf agreed to also take part in the green out for Ian was awesome. I realize that Bettendorf has always been one of our greatest rivals, but that is what makes it so special. In times like these, people really do know how to come together. We don't get to see it often, but when it happens, it's beautiful. Ian always wanted peace with everyone, and I think this is a great way to honor him," Josie said.
Everyone who knew Ian knew he always made everyone feel welcome and cared for. Though his life was cut short, Ian's legacy of loving hard, working hard and being selfless will be remembered and carried forward for years to come.
Rest in Peace, Ian Michael Kaffenberger. 
August 22, 2001 – August 26, 2022
Your donation will support the student journalists of Pleasant Valley High School in Bettendorf, Iowa. Your contribution will allow us to purchase needed equipment and cover our annual website hosting costs.