Local organization strives to create positive change regarding mental health
"Mental health matters."
These three short words are what pop up as soon as a person clicks on the website of the Gray Matters Collective. These words also encompass the mission of the Gray Matters Collective. 
This local non-profit was started in 2018 by Haley DeGreve and Kevin Donovan as a way to create awareness and provide help for those struggling with their mental health. 
"The Gray Matters Collective started because of a statistic that really bothered me – the fact that suicide is the second leading cause of death in ages 10-34 years old, yet it's the most preventable. The fact that a 10 year old is more likely to die by suicide than any other disease or illness in America bothers me every day. It's not okay," DeGreve shared. 
She thought of this movement back when she was in college. "At the time, I was in college, back in 2018, and I remember thinking to myself: we have to do more. So as students on Augustana College's campus, we got 60 students together in 5 weeks and launched a poster campaign. And that small poster campaign turned into this huge movement that is still alive today," DeGreve continued. 
The World Health Organization estimates that, 1 in 7 (14%) 10-19 year-olds experience mental health conditions, but these conditions greatly go unnoticed and untreated. Not only that, suicide is the fourth-leading cause of death among 15-29 year-olds. Mental health struggles in adolescents and young adults is a major issue which needs to be addressed and helped. 
The Gray Matters Collective hopes to do just that."We try to make change through three pillars: resources, education, and community. Resources: Those involved with The Gray Matters become the bridge between those battling mental health problems to those providing support, professional help, and healing. We are connected to many local and national resources available in the resources tab. Education: We consistently provide free presentations and basic training for anyone and everyone. Community: We are a collective — we believe community can help others survive and heal." DeGreve stated. 
With chapters at many schools and workplaces across the QC, their impact can be widely seen. 
"Through our monthly support group, our school chapters and events (virtual and in-person), we are constantly working to reach just that one extra person who needs to hear this message: you matter and you are loved." DeGreve continued.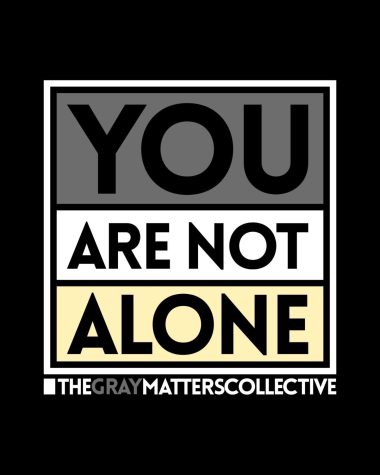 On their website, a member at their Orion High School chapter, Haley Vanduyne, shared how the Gray Matters Collective has helped them, "For Orion, it's meant that there is a finally a place we can create to talk about everyone's struggles and to acknowledge that mental health doesn't discriminate. Everyone has a brain and if you've experienced any kind of stress, especially this past year, you've experienced a mental health issue. By normalizing pain you cannot always see, we can save lives!"
Their Instagram page actively shares statistics, positive messages and inspiring stories of those who have benefited from the collective. 
The Gray Matters Collective also helps raise money for their cause. On November 19th, they, along with Foster's Voice Suicide Awareness, will be hosting a Starry Night Gala to raise money to provide free mental health counseling for those who need it. As of now, they've raised 49% of their $40,000 goal. 
In a time where mental health struggles are more prevalent than ever, organizations like the Gray Matters Collective are crucial in uplifting those who are struggling and providing them with the resources they need. The Gray Matters Collective serves as a wonderful reminder that there are people who care and want to help those in need.