Political polarity soars amid election time
In recent years, the weeks surrounding midterm elections have been growing more tense, and as people place their votes, political polarity in the United States worsens.
On Oct. 28, just weeks before Nov. 8, election day, Paul Pelosi, husband of House Speaker Nancy Pelosi, was attacked in his home by David DePape. Although Nancy Pelosi was the target of this attack, she was not present at the time. DePape was charged with attempted murder believing  the reason for the attack was driven by political polarity.
In the wake of this attack, republican officials have spoken out about the instance, and both parties condemn this action. Former Vice President Mike Pence spoke out about the incident tweeting, "This is an outrage and our hearts are with the Pelosi family…There can be no tolerance for violence against public officials or their families."
Many are relating this to the attacks on the Capitol on Jan. 6, 2021. When DePape broke into Pelosi's home he called, "Where's Nancy, where is Nancy," as did the rioters at the Capitol in 2021. Many have not condemned what happened on Jan 6. as they did with the attacks on Pelosi.
The attacks on Jan. 6 have created a wave of violent political action by split parties. People feel obligated to act out according to their parties.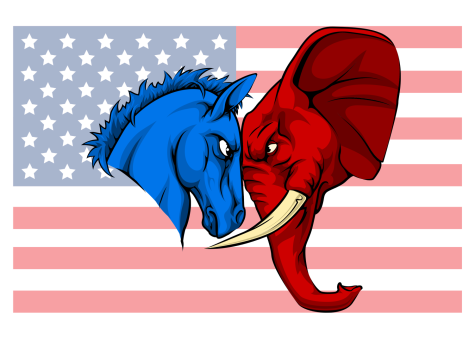 Senior Riley Asselin has kindled an interest towards politics and keeps up to date with what is happening. "I find it frustrating how certain topics get so political when they shouldn't. Especially when people's opinions are based on aligning with their parties," Asselin commented. She fears that as people only focus on their parties, they will begin to neglect logic and think solely the way their party would.
As this progresses, the polarity becomes worse and is especially accelerated during election time. Candidates try to distinguish themselves from their opponents and will go to extreme measures to ensure they are the best candidate. 
Iowa 2022 teacher of the year Sara Russel associates the extreme actions taken to gerrymandered districts, or voting districts that have been manipulated to favor a party.. "[They] have only made it easier for candidates to take extreme positions because they know they are guaranteed to win," Russel shared. 
With districts being gerrymandered, candidates can assure that they will win. This drives political polarity on people as candidates are in total control and can go to whichever extent they please.
In fact, 62% of republicans and 54% of democrats have a very strong opposing view to the other party as of 2022. This number will continue to get higher, and since 1994, both parties have doubled their disapproval of each other.
With split parties, the far left and right will continue to feel negatively towards the other. As a result, violent actions will persist, and candidates will do anything in their power to keep their position and distinguish themselves from other candidates.