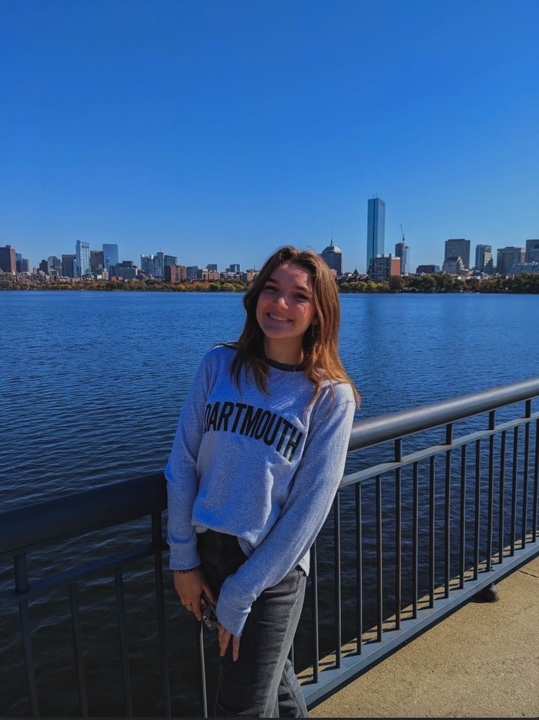 Bea Sears – Campus Capture
Dartmouth College is a private Ivy League research university located in Hanover, New Hampshire. It was founded in 1769 and is one of the oldest higher education institutions in the United States. The university is known for its strong undergraduate liberal arts program and graduate programs in business and engineering. 
The Dartmouth campus is on a 250-acre property in the Upper Connecticut River Valley. The campus is known for its beautiful New England architecture and natural surroundings, with tree-lined streets and historic buildings set against the backdrop of the White Mountains. The campus is also home to several outdoor recreational areas, including the 100-acre organic farm, a ski slope and many hiking and biking trails.
Dartmouth excels in its academics; the college offers undergraduate degrees in over 50 majors, dual degree programs and interdisciplinary study options. Dartmouth is also home to several highly-ranked graduate programs.
At Dartmouth, academic programs are divided into four undergraduate schools: the School of Arts and Sciences, the Thayer School of Engineering, the Tuck School of Business and the Geisel School of Medicine. Dartmouth also has a number of research opportunities available for undergraduate students, including the Dartmouth Undergraduate Research Center, which is known for its Dartmouth Summer Research Project programs.
The school is known for its small class sizes and close relationships between faculty and students. The college boasts a student-to-faculty ratio of 8:1 and many classes have fewer than 20 students. Dartmouth's small class sizes have been a great asset for the college and its community. 
PV alum Bea Sears is currently a student at Dartmouth and she was pleasantly surprised by how close-knit the community was on campus. "It's super easy to make friends and stay connected with them because you run into the same people and familiar faces wherever you go," she said. This tight-knit atmosphere has been a key factor in making Dartmouth a welcoming and supportive place for its students.
According to Sears, the close-knit community at Dartmouth extends to the alumni of the school. "If someone knows you're going to Dartmouth and they went there, they'll go crazy about it. It's really helpful when it comes to jobs and internships because it's easier to get into companies with Dartmouth alumni connections. They're usually eager to give back to the school and its students," she said. This strong sense of community and connection among Dartmouth alumni is a valuable resource for current students as they navigate their careers.
Other than its impressive academics, Dartmouth is also known for its extensive amount of activities and clubs offered on campus. Bea is an active member of the Dartmouth Wind Ensemble, Mountaineering Club and the renowned Dartmouth Outing Club. "The Dartmouth Outing Club offers a variety of outdoor activities such as rock climbing, backpacking, canoeing, and camping. In the winter, we have our own ski hill and two ice skating rinks to enjoy," Sears continued. Dartmouth's location amid the Appalachian Mountains and abundance of outdoor clubs make it a perfect place for students who love the great outdoors.
In addition to its outdoor recreational opportunities, Dartmouth offers a wide range of clubs and activities for students to pursue their interests and passions on campus. From sports teams to cultural organizations, there is something for everyone at Dartmouth.
Dartmouth's wide range of academic offerings and its schools in various fields provide students with the opportunity to delve into niche topics. Sears noted that thanks to Dartmouth's location in the middle of the woods, students are encouraged to explore their interests on campus through clubs and organizations. 
Some applicants may worry that Dartmouth's location in a smaller town could limit job and internship opportunities for students. Sears shared this concern when she first started at Dartmouth, but quickly discovered that the college's quarter system allows students to take time off and pursue internships in larger cities like New York and Boston during their breaks. This flexibility in the academic schedule gives Dartmouth students the opportunity to gain valuable work experience while still continuing their education.
Dartmouth College offers a rigorous and challenging academic program with a strong focus on research and hands-on learning experiences. The college's small size and close-knit community create an intimate and supportive learning environment. The college's unique location provides students with uncommon opportunities to be incorporated with outdoor activities.