PV Improv hosts first improv night of the year
Part of the PV Drama Club, PV Improv is improvisational theater that showcases spontaneous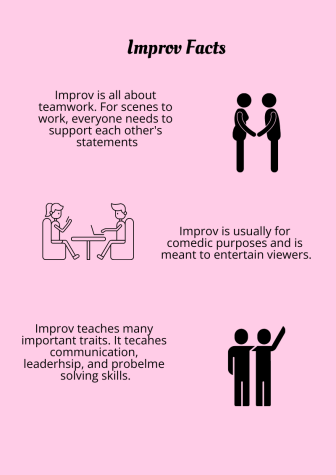 ensembles and is usually supposed to be performed for comedy purposes. 
At PVHS, the club practices once a week after school for speech competitions, where improv teams are given prompts for different scenes and then have to perform one of those scenes without any sort of script. There are 5 improv teams at PV: the 3 varsity teams, the junior varsity team and the 9th grade team that all practice once a week.
To do well at their live performances, the teams have many strategies. They make sure to listen and communicate clearly with other team members to make the improv acts flow better. They also make sure to trust their team and build off of each other as they continue their scenes. Improv needs a lot of teamwork and support in order to have successful speeches and scenes.
After the Improv club's speech competitions, they plan 2 Improv Nights. The first Improv Night was originally supposed to be held in the fall, but due to conflicts with many teams it was rescheduled. On Dec. 2, the Improv Club hosted their first Improv Night of the year. They played improv games with similar prompts as speech competitions but made it more fun and audience friendly. With its high attendance, the first Improv Night was a success with the varsity team Kakistocracy winning. The winning team was chosen by the audience clapping and screaming levels for each team. Sophomore Natalia Morales attended the first Improv Night. "Improv Night was definitely very enjoyable and made me laugh a lot. I was very impressed that so many students could easily improvise comedic acts on the spot," Morales said.
PV Improv will host their final Improv Night of the year in the spring. Freshman Aisha Marrar is on the 9th grade improv team. "I love being a part of improv because it is fun and I enjoy the adrenaline rush I get when I'm on stage not knowing what is going to happen next," Marrar said. 
Using teamwork and strategies, the improv teams continue to improve throughout the year. For any aspiring young actors, the teams welcome new members during the fall, when they hold auditions. The friendly environment of PV Improv makes it more appealing to new students that are interested in theater. It is also a great way to improve social skills, public speaking and helps make friends. Senior Miranda Croll is a current member of one of the varsity Improv teams. "This is my last year being a part of the PV drama program, but I am very excited to see how new members and teams form in the upcoming years," Croll stated.
If people want some comedic relief and see impressive talent, they should make sure to come to the next Improv Night hosted in the spring by PV Improv.