Fashion statements creating controversy surrounding the Met Gala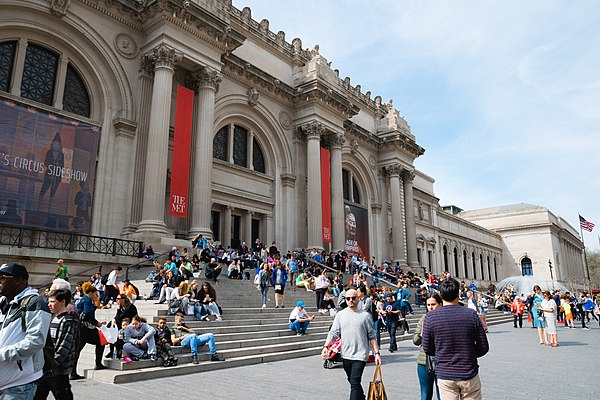 Celebrities constantly find themselves in the media's spotlight. Through runways and other popular events, fashion has become a huge aspect of celebrities' identities and reputations in society. One of the most coveted events for celebrities to define their signature look is the Met Gala. 
On Monday, May 1st, the Met Gala was held at the Metropolitan Museum of Art in New York City. Founded in 1948 by Eleanor Lambert, a fashion publicist, the Met Gala fundraises for the Met's Costume Institute: a collection of costumes that theater designers could gain inspiration from.
With the widespread media coverage of the event, celebrities utilize this red carpet event as an opportunity to make a statement with their looks. Many work with designers for months to establish the perfect ensemble. Freshman Millie Matkovich said, "I think it's cool how people from all over the world get to see how the people at the event dressed. Social media can connect people in this way which is what's amazing about large events like this. All the celebrities, outfits and relationships are posted about and that's what keeps people talking post-event."
Many well-known public figures attended the event, such as Anne Hathaway, The Kardashians, Doja Cat, Bad Bunny and more. The Met Gala is held annually with a new theme to inspire the attendees' looks. Previously the themes have been 'Camp: Notes on Fashion,' 'About Time: Fashion and Duration' and 'In America: An Anthology of Fashion' to name a few. The theme for 2023 was to dress in honor of Karl Lagerfeld, an influential Chanel designer. 
Lagerfeld is mainly known for his work as creative director of Chanel and his contributions to many other luxury brands such as Fendi and Balmain. His work with Chanel brought the company to the top and created popularity with the signature 'double C' logo.
In honor of Lagerfeld, several celebrities showed up in a variation of a look depicting a cat. Lagerfeld's cat, Choupette, is a white Burmese cat that often represents wealth. Attendees such as Doja Cat and Jared Leto's outfits were inspired by Choupette. Doja Cat appeared in a prosthetic molded cat face and Leto fashioned a full-fur catsuit to represent the cat in human size.
Celebrity Emma Chamberlain hosted the night's carpet interviews, where she talked with Doja Cat and Leto. Rather than engaging in conversation, Doja Cat embodied the whole essence of the cat and meowed throughout the entire interview. Leto also embraced the cat identity by purring and dancing his way through the carpet. He kept the identity of a cat secret until he eventually revealed himself on the carpet.
While these celebrities could have taken this moment to make a statement more meaningful, they chose to honor the designer's cat. The popularization of cats has been revolutionizing Gen-Z as many refer to a group of people as "furries." The polarizing debates over the ethicality of allowing children to identify animals have struck society. In schools and other public places, many are conflicted about whether to be inclusive of these individuals' chosen identities or to steer them away from this phenomenon.
However, Lagerfeld's several controversial remarks lost him support and caused many to be outraged by the theme for this year. Jameela Jamil, actor and body positivity advocate, called the theme "a disappointing double standard." One of his most hateful comments regarded Lagerfeld saying the Holocaust was the greatest thing Germany created. With Lagerfeld's comments being recent and hateful towards many, several celebrities chose to sit this year out and not to honor Lagerfeld.
Due to the coverage of the event, this was an opportunity to attract attention to more pressing issues facing society. Specifically, many attended the event ignoring the remarks made by Lagerfeld while some sat out the event. Honoring a public figure that has shown discriminative tendencies was against many individuals' morals. Bringing light to awareness of the topics Lagerfeld disregarded would have left a more meaningful impact.
Whether honoring Lagerfeld for his previous work with designers or by taking a more unconventional route, the fashion was incredibly innovative this year. "This year, the outfits were amazing. Personally, Billie Eilish and Emma Chamberlin were my favorites. The fashion creates so much buzz over all platforms and audiences and it shows what the newest or most honored designs are," Matkovich said.
The Met Gala is one of the largest fashion events of the year. The popularity of the event is a result of the unique and historical looks the celebrities show off. With new themes annually, each event generates talk over fashion and controversy surrounding designers.