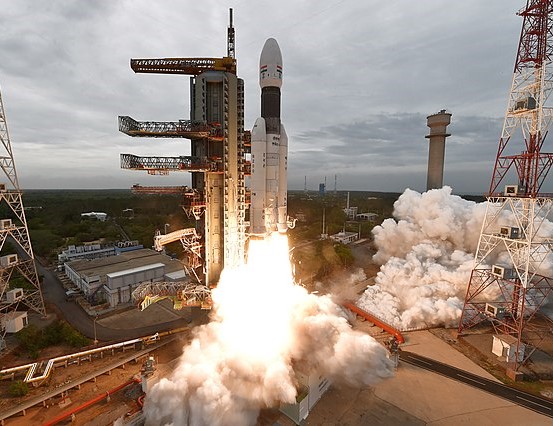 On Aug. 23, India made history as the third country to send a rover to the moon, following the United States and China. Notably, India's achievement went even further by being the first nation to successfully reach the southern pole, a milestone that surpassed all other lunar missions. This achievement marks a remarkable advancement in lunar exploration, opening up new frontiers for scientific discovery and potential future endeavors. 
After orbiting the moon for 2 months and 5 days, the rover touched down on the southern pole of the moon. This success for the Indian Space Research Organisation follows two similar successes with previous satellites. 
The Chandrayaan mission showcases India's impressive skills when it comes to space exploration, particularly with the cost-effective measures India took while still ensuring a safe mission. 
The mission cost was just $75 million. For reference, In the 1980s, a single space shuttle Columbia Mission cost nearly $49 billion to launch into low earth orbit. While it can be argued that Columbia had bigger payloads, the scale and distance of this mission make the price tag significant.
The ability for the Chandrayaan to land on the surface of the moon with such a small cost opens up many doors to opportunities and technologies that previous missions could not have. 
Indeed, Junior Arush Kachru voiced his admiration about the remarkable trend of decreasing costs in space exploration. "I think that is a great advancement in science and technology, since countries like India,  who previously did not have the money to build such an expensive project, were able to make it to the moon at such a low cost," he commented. 
The satellite's success also signifies a significant step forward in the advancement of fusion technology. In fusion technology, two light atomic nuclei are fused under extreme temperature and pressure conditions releasing a tremendous amount of energy in the process. 
The two most popular fuels for fusion are deuterium and helium-3, which are placed in a confinement chamber which are then fused to produce energy. However, current progress in fusion technology is hampered by a lack of helium–3 on the Earth's surface. 
The moon's surface is abundant in helium-3, making it a candidate for starting a base sometime in the future. With Chandrayaan establishing a possibility to get to the moon with such a small cost, it shows other countries that it is possible to get to the moon at a much cheaper cost. This could mean that the doorway for clean, commercially viable fusion reactors could be opened for the first time, with little to no impact on our climate. 
Another major discovery that the Chandrayaan mission made was the discovery of water on the southern end of the moon. 
Given the immense weight of water, its extraction and transportation pose logistical challenges to potential lunar and martian colonies. This discovery would be a massive shift in human exploration, since it alleviates our dependence on terrestrial resources to supply our water. The new space cleared up could then be used as useful space to launch additional cargo. 
Pleasant Valley AP Physics teacher Ian Spangenberg reflects on the Chandrayaan event with optimism. "[The mission] overcame challenges in developing best practices on how to perform future missions. Ultimately if they do find what they're looking for, it could potentially be a huge benefit to everyone" he reflected. 
With the substantial cost reductions and the array of additional benefits the mission brings, Kachru is confident about the potential impact on larger space companies. "If SpaceX or NASA finds out about this way to make it to the moon, it could inspire them to adopt similar technologies in their own rockets," he stated.
This illustrates how the success of Chandrayaan could potentially lead to wider adoption of efficient and cost-effective solutions to future missions, which could potentially  save a lot of time and money. 
As the world reflects on this monumental achievement, it is clear that Chandrayaan has not only expanded humanity's knowledge of the moon but has also paved the way for useful and revolutionary technologies that could benefit everyone on earth. With optimism and anticipation, the global community is watching to see what scientific breakthroughs and innovations this landmark mission will bring.