Pleasant Valley choir director Meg Byrne has spent 29 years leading PV's choral program and is being recognized for her substantial contributions. As PV's lead director, Byrne has been named one of 25 semifinalists for the GRAMMY Music Educator Award. 
In the 2021-22 school year, Byrne was named a quarterfinalist for the award after PV graduate Tommy Glennon nominated her. This nomination has carried into this year, but each year Byrne has to submit her resume, information about PV's music program, an eight-minute rolling recording of class, information about her involvement locally in music, and a teaching statement.
Glennon believed Mrs. Byrne's work in the choir program deserved appreciation on a larger scale. "Mrs. Byrne is an extraordinarily talented artist and conductor. I admire her hardworking nature and I'm glad she's getting recognized for the work she does. I nominated her nearly two years ago because I felt so strongly that she deserved to be recognized at an international level, and those feelings have only amplified. She's a powerful figure in the choral community who advocated for arts education, and she is my biggest inspiration as I pursue my own musical career."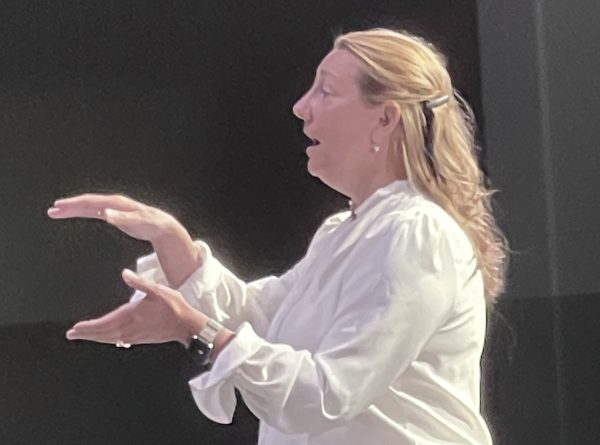 Throughout her years as a choir director, Byrne has received several other honors. Byrne has been part of the board of the choral directors association and a chair person of the all state jazz choir. She has also planned the all-state jazz convention and hosted events like the all-state show choir competition. 
As a result of PV's choral directors, PV's choral program has had a large representation in all-state choirs and other choirs across the state of Iowa.
"We've done some really exciting things over the years. It was a slow build, but I think we've maintained things at a high level in a number of areas of music, and I don't think you will hear about that a lot, especially in Iowa. You will have this choir who's known for their show choir or this school does a lot of music theater, or this school has their madrigals." 
"But we have been consistently good in a lot of areas. We have done a lot with Opus and All-state, we do a lot with jazz choir, we do a lot with solo ensemble and large group, and we do all those at a high level. People take note of that," said Byrne.
Year after year, Byrne has played a substantial role in PV's excellence, yet she continues to find motivation to give her best year after year. "There is always something new to do in this job, it's always fun and it's always interesting," she said.
Byrne has not only made a substantial impact on the program but also individuals participating in it. One of Byrne's former students, Caroline Sierk, has gone on to study at UCLA and recently released a single, "I'm Yours." Sierk is thankful for Byrne and her experience with PV's choir program. "She really knows how to make kids feel safe asking questions but also knows how to push kids in a way that is healthy and not toxic…making kids want to do better by instilling the belief that they can," Sierk said.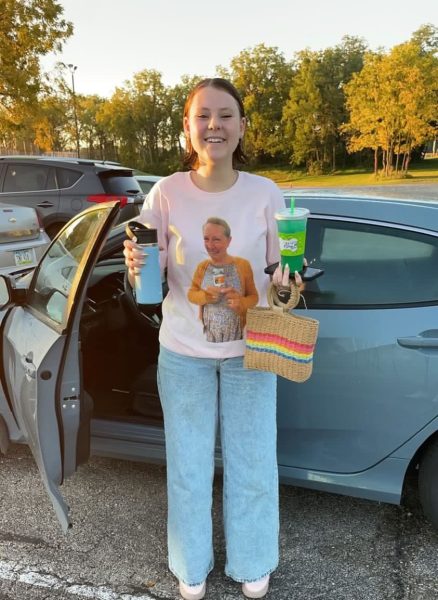 Caroline is not the only student that enjoyed her time in Byrne's choir. Glennon created a line of apparel called "Meg Merch." This student-run apparel line raises money for the choral boosters through clothing featuring Byrne's face.
"You can always count on teaching adolescents for spontaneous new things to happen, so they're going to keep it fresh and exciting too," Byrne said.
Byrne may have a lot of fun moments with her students, but also has a substantial impact on her students. Sierk reflected on the impact Byrne had on her life and what she taught her as a PV student.
"As a singer I have a really big sound, like I'm a loud singer, I've always had a really loud voice, and that was something I was afraid of for a long time, I was too loud or not blending, so I would sing in a way that wasn't giving my full sound to give my voice the opportunity to be beautiful. Talking and working with Mrs. Byrne, I learned all these ways I can use my full sound and make it blend and work with other people," Sierk explained.
"I think metaphorically that has taught me that I can be my full self and my entire personality, give all my efforts to a community or to a group, but also let other people shine, and bring out the best in any situation," she continued.
Not only are Byrne's past and present students respect her accomplishments over the years, including her announcement as a GRAMMY semifinalist, but her colleagues believe she is very deserving of the award. Choir director Catherine Lyon noted that Byrne's work ethic rubs off on everyone else in the program. "I know that Mrs. Byrne likes things to be excellent and that she works hard to make everything a fine and finished product, and that rubs off on all of us to do the very best we can." 
Byrne is very appreciative of the award, and believes her colleagues all work very hard to make PV a positive learning environment for students. "It's a huge compliment and honor to be recognized. I think every teacher in this building works really hard every day, and it's amazing when someone takes notice of your work and recognizes you for it. It's a big honor."
Sierk commented, "Mrs. Byrne has been the head of the program for so long, she has touched so many students' lives in immeasurable ways, whether they were crazy involved like I was, or if they were just in choir for a year or two. She made sure she always knew everyone's name, she would always make a beautiful sound out of every singer she got to work with."
Mrs. Byrne impacts every individual who goes through PV choir, and her positive impact will continue past her years leading the program.