Fashion Police: Homecoming Edition
Hang on for a minute...we're trying to find some more stories you might like.
Homecoming came early this year for Pleasant Valley High School. The school dance was held on September 9, 2017. PVHS was filled with dresses varying by designers, styles, lengths, and colors. Homecoming is a time for girls to express themselves through their individual styles.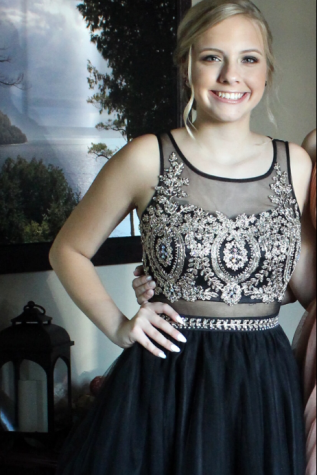 Emmie Peters, freshman, wore a spectacular black dress with mesh along the shoulders and lower stomach. Silver beading decorated the front of the dress. This look was classic and simple. The brand of her dress is Dancing Queen and she ordered it online from promgirl.com. Peters said, "I picked this dress because I knew it was different enough so I wouldn't have the same dress as other girls. It was cute. I liked that it was an illusion dress, so it was similar to a two piece without being as uncomfortable!"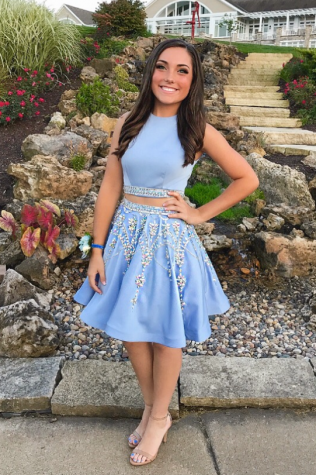 Sophomore, Caitlin Chrome, stepped out in stunning periwinkle two piece dress. Multi-colored beading decorated the bottom of the top and down onto the skirt. She bought this dress from Blush Dress Shop in Davenport, Iowa. The designer of her dress is Blush Prom. Chrome said she choose this dress because she "loved the color and the detail."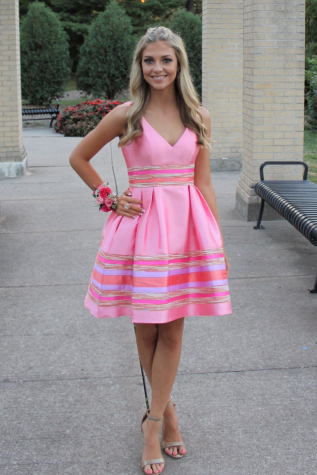 Lily Williams, junior, wore a charming pastel pink v-neck dress with a pleated skirt. The dress had soft pastel stripes in blue, purple and orange along the waistband and bottom. The designer of her dress is Mac Duggal. She got her dress from Blush Dress Shop in Davenport, Iowa. Williams said, "I chose this dress because it is super girly. My past dresses have been more simple and I've never done pink before."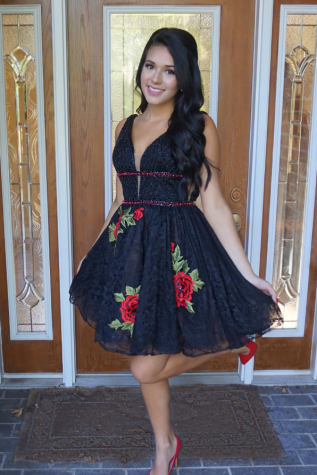 Senior, Gia Eckhardt, wore a gorgeous black dress with a flirty skirt. Red roses were printed across the bottom of the skirt. She got her dress from promgirl.com. The designer is Sherri Hill. She said, "I bought this dress because I really loved the roses. I have never had a style like this before."
Flower print dresses seem to be a common trend right now. Two pieces have been in style for three years, and the classic dresses will continue to stay in style for years to come.
Angela Schriver, one of the owners from Blush Dress Shop in Davenport, Iowa, said, "We carry a huge selection of dresses. These designers include Sherri Hill, Mac Duggal, Blush Prom, Hannah S, and a variety of others. We get a new shipment of dresses all the time during our busy seasons, around dance time." Many of the girls with the most admired styles got their dresses from Blush Dress Shop.
Schriver said, "In order to determine what trends are in and what dresses to carry in the store, we go to different markets and cities. We travel to Atlanta, Dallas, L.A. and other big cities to attend fashion shows. We watch models try on different dresses."
Pleasant Valley High School was filled with beautiful dresses this homecoming. All girls seemed to incorporate their own styles and personalities through their dresses.