Recognizing abilities, not disabilities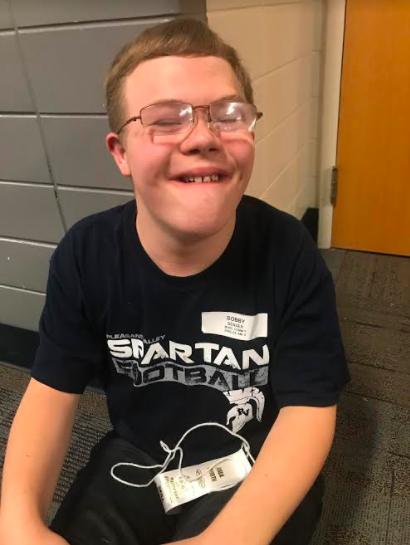 Hang on for a minute...we're trying to find some more stories you might like.
With the month of October beginning, something worth celebrating has arrived: Down Syndrome Awareness Month. This month is about honoring those with Down Syndrome and recognizing their abilities. Bobby Bender, a junior at Pleasant Valley High School with Down Syndrome, is worth celebrating.
Bender's bright personality and contagious smile have helped him flourish in all of the activities he is involved in. Bender works at Coffee Hound as well as in the bakery at Hy Vee. Bender's sweet tooth makes working at both places a perfect fit. Bobby is truly a helpful smile in every aisle!
Along with working two jobs, Bender is a member of the Stars, a dance team here at Pleasant Valley designed for those with disabilities. Payton Krueger, a senior and cheerleader, dedicates time to help those with disabilities shine. "Bobby is always smiling and loves to put a smile on everyone else's faces too." Not only does Bender care about inner happiness, but he also loves spreading happiness for the sake of others.
Bender's favorite activity is being a member of the Pleasant Valley Singers, one of the four choirs. Although he loves choir, sometimes he finds the music and the singing to be difficult. "I like to sing but music can be hard," he says. Bender's hard work in choir has brought obstacles for him, but these obstacles have led to overall improvement, something for all people to gain inspiration from.
Even though having an extra chromosome provides challenges for Bender, his abilities overpower the disabilities. Mr. Ward, one of the special education teachers, couldn't agree more. "The best way to approach those with disabilities is to view them as belonging to a different diversity group versus a lesser group due to functional abilities. Focus on strengths and abilities and what one can do," he explains.
Although October is the month promoting appreciation for those with Down Syndrome, those with Down Syndrome should be appreciated every month of the year. All should do whatever it takes to recognize the abilities, not the disabilities!