New restaurants break ground in PV area
The Quad Cities is experiencing many changes, and the arrival of new restaurants is just one of them. Local and nationwide chains have announced their plans to break ground in the QC area, whether it be a new coffee shop location, a local favorite from Springfield or a gourmet mac and cheesery.
Atomic Coffee Bar announced its plans to open a location on Ridge Point in Bettendorf back in October of 2017. Completion is expected this summer, but a final date has not been announced. On May 10, Atomic posted a photo on their Instagram page of Bush Construction placing the Atomic building on the foundation.
Bettendorf residents, specifically Pleasant Valley students, cannot wait for the new location to open near the high school. Sophomore Nate Martell shared his excitement saying, "Having an Atomic right beside the high school will be very convenient so now I don't have to drive to the Brady Street location to get my Rainy Day!"
The next business' arrival to the Quad Cities has been rumored for over a year and was finally confirmed at the end of January. Hurts Donut Company tweeted "Kansas City, Oklahoma City, Colorado Springs, Memphis, Nashville, Quad Cities, Omaha, Waco…Seeya soon!" on their Twitter page and announced on Facebook that the QC location is under contract and in the works. Hurts became popular in the Quad Cities after opening a location in Iowa City. Most residents make a Hurts a stop on their road trip to see an Iowa game or spend a day in the city.
The $45 million TBK Bank Sports Complex or "BettPlex" is also attracting both new and locally loved businesses. Beth and Greg Aronson, owners of Coffee Hound, plan to open a gourmet macaroni and cheese and grilled cheese restaurant near the sports complex.
The restaurant, named Cheesy Cow Mac & Cheesery, will open its doors in mid-August and will be accompanied by another Coffee Hound Location. Families will be able to get their coffee fix in the early mornings between games and enjoy meals at the eatery.
Beth Aronson told the QC Times that she got the idea for this restaurant while traveling in Wisconsin saying, "We saw places like this and we thought, 'Why can't we we just do that here?'" The Cheesy Cow's menu is set to include 11 big-portioned mac and cheese dishes, six melt, four salads and at least one soup: tomato.
About the Writer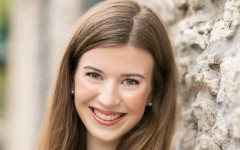 Emma Horsfield, Business Manager
My name is Emma Horsfield, and I am a senior this year. Aside from being the Business Manager for the Spartan Shield Online, I am an Executive Member of...