Why I should care about the Nipah outbreak?
Hang on for a minute...we're trying to find some more stories you might like.
A rare and deadly viral infection called Nipah is reemerging in the Kozhikode region of Kerala, India. The disease is commonly carried by animals; in the past, pigs were an identified host of the virus. In an effort to eradicate the disease, many pigs were killed in the areas where the outbreaks were occuring. Recently, in Kerala, it seems that the virus has found a new host: the fruit bat. The viral infection was first noticed in Malaysia in 1998. The victims showed average symptoms of fever and were discovered to have suffered from a form of encephalitis, or inflammation of the brain. Since 1998 the disease began to disappear, and until recently, there have been few cases of Nipha.
According to Kevin Loria, a journalist from the Business Insider online news source, since the outbreak began over 200 people have died in India and Bangladesh. Nine people died in Kozhikode.
At the moment, there is no existing vaccine for the virus, so no one is immune. Because the infection is viral, there is no antibiotic cure for the illness. The most that people can do to prevent spreading the virus is isolate victims of the virus. In a state like Kerala, people do not have enough resources to properly handle an outbreak like Nipha. If people have been traveling to and from Kerala, there is a high chance that the virus has traveled from India to other countries. Like many other severe viral diseases, the infection shows mild symptoms such as fevers or headaches. Symptoms like these are normally overlooked. This re-emerging virus could potentially cause a global pandemic.
Luckily, the world has experienced such viral outbreaks in the past and is better prepared to handle an outbreak in case it does spread. From the United States' experience with Ebola and advanced medical technology, people should be somewhat safe from the possibility of a large scale plague. However, Ebola and Nipah are two viral diseases that are transmitted in the same ways. It can be transferred through bodily fluids and many vectors. Until a vaccine is developed for this virus, people need to practice aseptic techniques and maintain personal hygiene. No one is truly safe from the virus until outbreaks have been isolated and handled by the people inhabiting the area.
About the Writer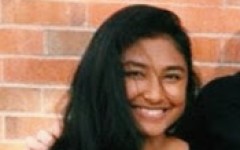 Roshni Nair, Arts and Entertainment Editor
My name is Roshni Nair. I am a senior at Pleasant Valley High School and I am an Arts and Entertainment editor for the Spartan Shield. Outside of this,...