Why should I care about the Senate recognizing the Armenian Genocide?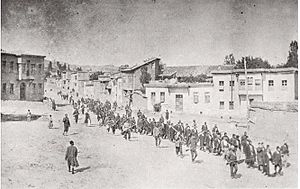 The United States Senate voted to recognize the Armenian Genocide as a matter of foreign policy last week.
The Armenian Genocide refers to the mass extermination and expulsion of Armenians of the Ottoman Empire between 1914 to 1923. Until last week, Turkey's alliance with the United States over the past decades kept under the rug in the eyes of the US government.
Many students are not aware of the events that unfolded over a century ago. "I had never heard of it before last week when I saw something in the news about it," said senior Braxton Farmer.
With a significant population in the dark about the Armenian Genocide, most question whether PV students needs to learn about it. However, as philosopher George Santayana said, "those who do not learn history are doomed to repeat it." 
While it is an exaggeration that those not aware of Armenian Genocide are automatically condemned to repay themselves, but it is necessary to know humanity's past in attempt for, as human race, to not repeat it in the future. 
Senior Spencer Brecht, a well-educated student on the matter of the Armenian Genocide, does not understand why students do not learn about it in school. "Putting all complex politics aside, I think people need to be more aware of what happened during the Armenian Genocide," Senior Spencer Brecht said.
The timing of this questions the legitimacy of this legislation. Turkey's alliance with the United States over the past decades kept this massacre out of the books. However, with tensions rising between the two governments and their leaders, this act of defiance by the Senate has only made matters worse for foreign affairs.
The United State's Senate passed this legislation in an elaborate political move against both President Donald Trump and the Turkish Government. The Armenian Genocide is a part of history that needs to be revisited in taught in school to students as it has been not publicized in the past years.