What's next for March For Our Lives
Hang on for a minute...we're trying to find some more stories you might like.
As the 2018-2019 school year begins, many clubs kickoff their new sessions with new goals and agendas. One of the new and popular clubs initiated last year, March For Our Lives, also has begun planning for the upcoming year. March For Our Lives was created by and led by students from Parkland, Florida but has since spread its message across the country, including here in the Quad Cities.
According to March For Our Lives, its overall message as a movement is to, "assure that no special interest group or political agenda is more critical than the timely passage of legislation to effectively address the gun violence issues that are rampant in our country". As a group, March For Our Lives QC took the official message and accomplished various tasks as a movement last year which included two school walkouts, attending various school board meetings, and discussing school safety. As a branch of March For Our Lives, March For Our Lives QC focuses on uniting our own community on this issue.
MFOLQC co lead organizer, Vashishta Chintalapalli, stated that MFOLQC will remain a non-partisan that advocates for each individual to express their own opinion and reach out to legislators.
"
Even with different viewpoints, we work together and create a united front to ensure that the public is safer in their communities."
— Vashishta Chintalapalli
Chintalapalli also commented on school safety after the recent events that occured at North Scott Junior High. "It's scary to be confronted with the knowledge that something of this magnitude could happen in our community. We want to believe that this sort of violence can't enter our schools, can't affect our friends, but this event serves as a wake-up call: gun violence is a prevalent issue, even in our own community."
This year, MFOLQC is looking towards writing legislators about students' concerns along with  organizing more marches and having discussions about the issues surrounding gun violence in schools. Members will also be attending school board meetings to connect teachers, students, and parents to the administration that is aimed towards helping students with the cause. Leadership of PV's section is also changing as last year's seniors have left. Current executives are in the process of selecting new class representatives for the new school year. MFOLQC PV members are also teaming with other schools around the state to create #MarchForOurLives Iowa.
Also looking forward to this year, MFOLQC member, Muskan Basnet, hopes to "focus more on taking action and writing to legislators." Basnet attended both the walkouts held at PV, and commented on how " the speakers spoke really well. It was cool to see every speaker talk about a different branch of a central issue of gun violence." As a member of MFOLQC Basnet says, "I'm really excited to be able to make a difference in our community."
Sign up sheets will be available in classrooms at the high school to join March For Our Lives QC. Contact any current member to be added to the group chat.
About the Writer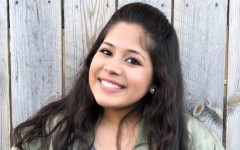 Angela Pandit, Social Media Manager
My name is Angela Pandit and I am the Social Media Manager for Spartan Shield Online. I love to be involved in our school and community through various...