Keep your head up
Hang on for a minute...we're trying to find some more stories you might like.
Football is "America's sport", and as time has gone on, new discoveries have been made. With these discoveries, new safety rules and better protection have been added to the sport. One of these safety rules is the illegal use of the helmet rule. This rule states that athletes are not allowed to lead with their head when they make a tackle.
Originally this rule was only effective of helmet to helmet contact, but in a conference this past May between the 2018 NFL owners, the rule was further developed. It is now considered a foul when any player lowers his helmet to initiate a tackle anywhere on the opponents body. If this action is taken place by any player on the field, their team gains a 15 yard penalty.
Because of this new rule, officials in the NFL are cracking down on athletes. During the game between the Carolina Panthers and Atlanta Falcons that took place on Sept. 16, this rule was brought to referees' attention. After Falcons safety, Damontae Kazee, brought down Panthers quarterback, Cam Newton, he was ejected from the game. The reason of his ejection was due to Kazee's late helmet-to-helmet tackle that took place.
The rule not only affects the NFL, but college and high school football programs as well. Pleasant Valley's head coach, Rusty VanWetzinga said, "From the top down this rule makes football safer and it's much safer than it has been ever." The intention of this new rule is to protect athletes from injuries to the neck and back and to prevent them from receiving concussions. These injuries are all caused by placing their helmet in the line of danger. VanWetzinga also said, "It all trickles down from the NFL, all levels are much more informed on keeping their heads out of there."
Athletic trainers are also affected by the new rule change. Pleasant Valley's athletic trainer, Jason Veil, said that he doesn't think the new rule has impacted the high school programs quite yet. When referring to the effects of the rule change Veil said, "It takes a while for that all to start to come down. I think at the highschool level the refs need to get better at calling penalties when there are penalties instead of saying, 'it's just part of the game'."
About the Writer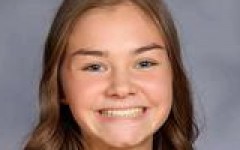 Ada Duncan, Feature Editor
My name is Ada Duncan and I am the Feature Editor for the Spartan Shield online. My step mom and dad are both teachers here at Pleasant Valley and I have...