Football playoff possibility
Hang on for a minute...we're trying to find some more stories you might like.
Pleasant Valley football knew that it was going to be a challenging start to their season when the schedule came out during the preseason. The spartans are now over half way through the season and need to win out in order to have a chance at playoffs.
The football team had to play Bettendorf, Cedar Rapids Prairie, Iowa City West, and North Scott; all teams that are ranked in the top ten in the state. This tough schedule lead the team to have a 2-4 record, and they only have three games left. Even though they had a rocky start, the team has still had fun and has enjoyed their season so far.
Brennan Sarver, the starting safety and running back, said, "It's been a fun season. I have really enjoyed bonding with my teammates and watching our team improve every week. We have never lost our focus even when we started off the season losing. I love how this team works hard everyday and we never give up."
The spartans have to win all three games to get the opportunity to play in the games to go to state. They have no room for anymore hiccups in the season, but the team is just taking it week by week.
Varsity head coach, Rusty VanWetzinga, explained, "We have a shot to make it to playoffs.  Obviously we have to win out and hope some of the teams that beat us early continue to win.  With the new RPI rating system we will have a good rating based on our strength of schedule.  Most importantly we have to continue to improve and take it one game at a time."
Injured players have been a big obstacle that the football team has had to overcome. It's an issue that has made players take on multiple positions or positions that they have never played before.
"I am most happy with our teams perseverance this season. We have overcome injuries, players playing in positions they aren't accustomed to, and competing at a high level against some of the state's best," VanWetzinga stated.
The spartans hope that their season will continue into the postseason in order to keep the strong tradition of Pleasant Valley football alive.
About the Contributors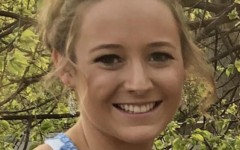 Carli Spelhaug, Sports Editor
My name is Carli Spelhaug and I'm the sports editor for the Spartan Shield Online. I play three sports: softball, basketball, and track. My favorite...
Maya McClain, Photo Manager
My name is Maya McClain, I'm one of the Photography Managers. I enjoy spending my free time taking pictures in and out of school. You can usually find...