QC Festivities
Hang on for a minute...we're trying to find some more stories you might like.
Davenport kicked off the holiday season with the annual Festival of Trees parade on Nov. 22. The festival itself took place at the RiverCenter in Davenport from Nov. 15 to Nov. 25. Festival of Trees is home to a multitude of activities: crafts, gingerbread village, gift shop, Santa's throne and more.
The festival is also an opportunity for dancers, musicians and artists to display their work. A number of Pleasant Valley students had their art displayed or performed with the choir. "It's an amazing experience to be able to share our talents with the community in that kind of environment," chamber choir member Kenzy Wild commented.
After the festival of trees in Davenport, the East Village of Davenport and LeClaire held their own celebrations to get in the holiday spirit.
Christmas in the Village took place on Nov. 30 and Dec. 1. This year was the 42nd annual Christmas in the Village, put on by the Village of East Davenport Business Association. Participants had the opportunity to hear live music, meet Santa Claus, ride a trolley, find lots of deals in local shops and watch fireworks on Saturday.
This Friday through Sunday is Christmas in LeClaire. Christmas in LeClaire is very similar to Christmas in the Village; downtown LeClaire is essentially turned into a winter wonderland featuring a silent auction, crafts, more trolley rides and even an Ugly Christmas Sweater 5K on Saturday.
For teens, it is always a struggle to find fun, low-cost activities. As the weather gets colder, that task seems more impossible. However, the QC has some often overlooked activities that deserve to be on every teen's winter bucket list.
First, teens should consider attending local festivities like Christmas in LeClaire or the Festival of Trees. Shopping small or watching live music could make for a great date or much-needed quality time with parents.
Ice skating has been super popular since the introduction of Bettendorf's first outdoor skating rink. Frozen Landing family ice skating rink is located on Middle Road. Skating is free and skate rental is just $2. "My friends and I always find ourselves at Frozen Landing on cold winter nights. It gives us a chance to get out of the house and do something fun, which is hard to do when the snow often traps us inside," stated senior Olivia Penniston.
When it gets a little too snowy, indoor ice skating is offered at River's Edge in Davenport. Skating is $5.50 and skate rental is $3.50.
For those interested in skiing, snowboarding or tubing, Snowstar offers all of the above all winter. They make snow, so as long as the temperature drops they are open. Snowstar is located in Andalusia, Iowa. It is a little bit pricey, but they offer two restaurants and a cozy lounge to warm-up before heading home.
For those who do not thrive in cold weather and prefer the comfort of heat, the Vander Veer Conservatory presents views of beautiful greenery in the midst of snow and ice. It only costs $1 to walk through. Vander Veer also has amazing Christmas lights, so it's beautiful for pictures or a relaxing stroll at night.
For people who love the Freight House Farmers' Market on a hot summer day, the market is open all year. The indoor market is now open on Saturdays and Sundays.
The Freight House Marketplace will also host an event on Jan. 20 called Icestravaganza, in which a team of precessional ice sculptors decorate the building with about 10 sculptures. The event will also offer free kids activities and Necker's Jewelers will be giving away gift certificates.
"
I really enjoy seeing the sky bridge during the winter because of the mood it sets for the season and the Christmas colors"
— Zach Morel
Small shopping sprees at local businesses are always a great option, but they seem more welcoming in the chilly, dark winter. Bakeries like Oh So Sweet by Tiphanie or Baked Beer and Bread in Davenport offer an aesthetically pleasing dining experience and wonderful treat. Boutiques in Bettendorf and Davenport provide the latest fashions for keeping warm.
If all options have been exhausted, the skybridge in Davenport never fails. It is lit up year-round and heated in the winter. At night, visitors can see the lit up Centennial bridge and the glittering snow; it's truly a marvel. "I really enjoy seeing the sky bridge during the winter because of the mood it sets for the season and the Christmas colors," added Zach Morel.
About the Writer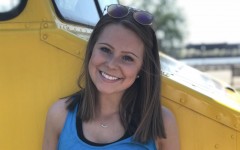 Gibson Yost, Editor-in-Chief
My name is Gibson Yost and I am one of the Editor-in-Chiefs for the Spartan Shield online. I am a senior and I have been a cheerleader for 4 years and...