Death of George H. W. Bush unites Americans
Hang on for a minute...we're trying to find some more stories you might like.
On Nov. 30, former president George H. W. Bush passed away at the age of 94.
During a time of intense political polarization, it wouldn't be unthinkable that people would move the focus from grief and instead put blame on Bush's actions as president and the legacy he left. However, this was not the case. On a widespread scale, both parties came together to celebrate George H. W. Bush's life.
Bush's death, while devastating, was not random. He had had a history of health problems starting back in 2012 at age 88 that included bronchitis, a broken vertebrae, parkinsonism, pneumonia, sepsis, and low blood pressure.
"Jeb, Neil, Marvin, Doro, and I are saddened to announce that after 94 remarkable years, our dear Dad has died," George W. Bush, Bush's son, announced. "George H. W. Bush was a man of the highest character and the best dad a son or daughter could ask for. The entire Bush family is deeply grateful for 41's life and love," he adds, giving a deeply personal perspective on his father.
We saw many unrelated to Bush and grieve along with Bush's family. "America has lost a patriot and humble servant in George Herbert Walker Bush. While our hearts are heavy today, they are also filled with gratitude. Our thoughts are with the entire Bush family tonight – and all who were inspired by George and Barbara's example." Barack Obama tweeted, along with a letter-like statement attached.
Even members of the media and political commentators showed support for Bush and his family no matter their bias. When simply searching "George H. W. Bush" on Twitter, you find numerous tweets and articles across the board that show Bush in a positive light. The New York Times, for example, published a special article taking the perspective from Dana Carvey, a comedian who had a unique friendship with Bush.
Senior Nikki Chang, Twitter user, commented, "It really was incredible to see the way people came together honoring George Bush. I am really happy that politics didn't divide our country when acknowledging his passing." PV is no exception to coming together during times of sorrow.
About the Writer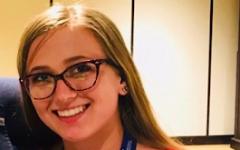 Ava Stigler, Editor-in-Chief
My name is Ava Stigler and I am the Editor-in-Chief for the Spartan Shield online alongside Gibson Yost. I enjoy keeping up with current news and politics,...