Too Much Spartan Spirit?
Hang on for a minute...we're trying to find some more stories you might like.
We see it everywhere around PVHS. With students incorporating the Spartan logo into what they wear, to creating themes for students to follow at sporting events, to even having "SPARTAN NATION" painted above the bleachers in the gym, team spirit is not only promoted, but an is an essential part of PV culture.
"I think Pleasant Valley places a lot of emphasis on Spartan Pride and this is especially true during school assemblies that are held specifically for athletics," comments Mackenzie Schmidt, senior.
But is all of this spirit necessary to create a united social front or is it distracting from academics, the core purpose of school?
"
I think having an emphasis on sports in high school takes away a lot of time and effort that students can put into their academic success."
— Cassandra Brown
According to Pew Research, the US is below many other developed countries in their math, reading, and science scores. There could ultimately be a number of reasons for this, but excessive school spirit is one noticeable thing that many other developed countries don't incorporate into their education. Therefore, whether or not school spirit positively or negatively affects an academic environment is a worthwhile question to ask.
Cassandra Brown, former PV student who studied at a European school in Germany for four years said, "I think having an emphasis on sports in high school takes away a lot of time and effort that students can put into their academic success. In Germany, no schools have sports teams, instead they play club sports outside of school. This is beneficial because students view school as a place of learning."
German students score significantly higher in math, reading, and science than students in the United States. "They [German students] do not see it [school] as a place where they can put their education secondary to their athletic goals," Brown added.
It can be easy to do this in the United States. No other country has a university system that offers admission or financial aid based on athletic ability. Because it helps families tremendously to send their child to school on a scholarship, it is no wonder that our focus on athletics is integral in American education. However, potential is being lost for students to pursue academics that will likely take them further over the course of their life than a sport will.
While school spirit promotes a sense of unity, a decrease in the amount of focus schools put on sports could potentially improve how students learn and the overall quality of the American education system.
About the Contributor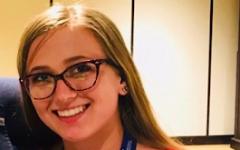 Ava Stigler, Editor-in-Chief
My name is Ava Stigler and I am the Editor-in-Chief for the Spartan Shield online alongside Gibson Yost. I enjoy keeping up with current news and politics,...