A perfect score: Three PV students earn a 36 on the ACT
Hang on for a minute...we're trying to find some more stories you might like.
Each year, students across the United States take the ACT, shooting for the highest score possible. The highest score is a 36, but very few students can say they have achieved perfection on this exam. Several students at PV, however, have defied the odds and attained the top score in recent years.

The ACT is scored by averaging the sub scores on the four parts of the exam: English, math, reading, and science. In order to get a 36, a student must get a minimum average of 35.5 in order to round up to a 36. Overall, this means that a student can only miss about one question on the 215-question exam if he or she wishes to attain a perfect score.
In the past few years, there has been an increasing number of students inching closer to that elite score, and the most recent students to attain the perfect score are senior Alexander Haack, and juniors Darsh Balani and Taylor English. With many hours of preparation and studying, they were able to develop a strategy that allowed them to earn the highest scores in each part of test, receiving a perfect 36 overall.

Balani took the exam in December of 2018. He said his prep was done in a short, focused period. "I found the official ACT guide helpful for studying. Most of my studying happened over two weeks. I took a lot of practice tests to get familiar with it," he said.
Taking official practice tests is a very popular way to prepare for the test. According to Haack, official tests are the most effective way to study. "Each time I took a test, I was able to go back and see what mistake I made and why. By taking more, I was able to improve on these mistakes until I stopped making them," he said.
By scoring highly on the ACT, these students have set themselves up for success when it comes to their post-secondary plans. Because each test is administered identically across the country, the test results can be used for many purposes. A high score can open up opportunities to attend top colleges, acquire scholarships, and earn many other rewards.
Balani is hoping that all his work will pay off. He said, "I've spent a lot of time worrying about this test and it feels good to be done with it. My parents and I are really happy and I'm hoping it helps when it's time to apply for college."
About the Contributor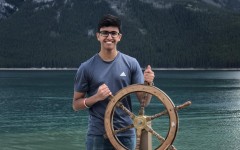 Rishab Verma, Photo Manager
My name is Rishab Verma. I am a senior this year and am already getting a little sad that graduation is nearing. Pleasant Valley is my favorite place on...