Barstool Twitter comes to PV
Hang on for a minute...we're trying to find some more stories you might like.
Barstool sports accounts have been becoming quite popular in the recent Twitter world. Affiliate accounts have been popping up over the Quad Cities, including our very own at PV.
What exactly is a "Barstool account"? The main Twitter account comes from a blog website called Barstool Sports, known for its unique coverage of sports. Their Twitter account is what has been becoming more popular, with over one million followers. This big fanbase has caused affiliate accounts to show up across the nation in colleges and high schools.
Unlike the Spartan Student Section Twitter account, the Barstool Pleasant Valley account has no direct affiliation with the school. Because these Barstool accounts are not affiliated with the schools they represent, the content is usually more controversial. Many times it is filled with trash talk towards other schools and their accounts.
Athletes throughout the school have had different reactions to the activities of the account. Some seem indifferent towards the matter, while others realize it is another platform to be represented on. Senior athlete Ely Adams had some mixed feelings when asked about the matter. He said, "I like how they are being competitive and supporting, but they have to be careful with what they say."
Multi-sport athlete Carli Spelhaug also looked at the account from two different perspectives: one as an athlete and the other as a spectator. She said, "It can cause more drama on Twitter and make PV look bad, but sometimes it can be funny too." This contradiction seemed to be a common trend among students.
Since its creation in January of this year, the Barstool Pleasant Valley account has shown support towards athletes committing to play at the collegiate level, along with some bitter talk between the surrounding school accounts on who has better athletes. Recently, there has been some inactivity since their last post on January 22, making people wonder if it is going to stick around for the long run.
After talking to one of the creators of the account, Grant Zimmerman, the motive behind the creation of the account was revealed. "We started the account to create hype for some athletes at PV and thought it would be a fun, different way to represent our athletics." Zimmerman plans to continue their activities in the future.
With the Barstool Pleasant Valley account still young, it is yet to be seen what direction the account goes. Some people have looked at the possible negative consequences of the account and others have enjoyed the light trash talking. Only time will tell how the Barstool Pleasant Valley account progresses.
About the Photographer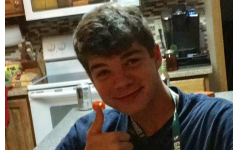 Jeremy Ramsey, Sports Editor
Hello, my name is Jeremy Ramsey and I am one of the Sports Editors this semester. I am currently a senior and plan on attending Iowa State next year to...