PVCSD annual report highlights
Hang on for a minute...we're trying to find some more stories you might like.
In January, the Pleasant Valley Community School District released the annual progress report to give an overview of the district and an assessment of the previous school year (2017-2018).  Highlights from this past school year included three state championships, two Breaking Barriers Awards, and the US News & World Report National Silver Medal Award for Best High School in Iowa.  
PVHS students continued a pattern of academic excellence last year shown through the ACT data.  Pleasant Valley maintained a composite score nearly 3.5 points above the Iowa average and over 4 points above the national average.  Students also continued to excel on the AP tests with 85% of students scoring a 3 or higher.
Also included in the annual progress report was a comparison of the student and parent survey administered last fall.  This past school year, the differences between the students and parents responses were clear and concerning for the student body.  96% of parents said their child was safe at school but only 85% of students claimed to feel safe. PVHS Principal Mike Zimmer said Pleasant Valley wants to improve those numbers.  "We continue to strive for a safe school environment and building," he said.  Coming soon are large cube shaped barriers outside the commons to prevent an intruder from entering with a vehicle.
Bullying was also addressed on the survey in a couple of questions.  One of which asks if a student "felt bullied or picked on in a hurtful manner".  10% of parents said their child was bullied at school but when asked, 22% of students replied "Yes".   Social studies teacher Sara Russell says "Even a simple 'Hey, that's not ok' from one student to another could be helpful in fighting this problem."  Students are encouraged to talk to their counselor if they are the recipient of bullying or if they know it's happening.
Another stark difference was the response to how well PV corrects mistakes and tries to make them right.  87% of parents agreed that the school does a good job while only 61% of students concurred. Students are often relied on to report situations that require administrative involvement for corrective purposes.  This last school year Zimmer introduced the P3 Campus app which allows students to inform the administration of harmful, threatening, or concerning situations. "We follow up on every message", Zimmer said. Every P3 message is also personally responded to by an administrator.  
About the Contributor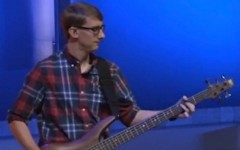 Trevor Glaum, Business Manager
Hi!  My name is Trevor Glaum and I am one of the business managers of the Spartan Shield Online.  I am a senior at PV and I enjoy running Cross Country....