PVEF scholarships attempt to reduce student debt
Hang on for a minute...we're trying to find some more stories you might like.
With the deadline of the PV Educational Foundation scholarship just around the corner, Pleasant Valley seniors race to find ways to pay for college.
In the past decade there has been a drastic rise in the cost of college tuition. In-state universities, on average, cost $9,410 just for tuition. As 17 or 18 year-old students, these prices may seem overwhelming. However, on top of this tuition, students still have to pay for housing, food, books, and supplies.
Getting an education is very important, and the Pleasant Valley School District is dedicated to helping every student receive an education, both in high school and beyond the walls of PV. The Pleasant Valley Educational Foundation provided numerous scholarships available only to PV students.
These scholarships range anywhere from the Social Studies Department Achievement Scholarship to the Brett Greenwood "Total Effort" Scholarship. There is something for everyone within the 100+ scholarships being awarded, including some dedicated to sports and medical fields. Some students are taking full advantage of this luxury.
Scholarships will be open until Friday the 15th and senior Maya  McClain isn't passing up on her chance to win. "I've applied for 6 scholarships. I chose to apply because I'm taking any opportunity I have to chip away at my college tuition," she said.
Student debt is a reality many high school seniors are not yet ready to take on. About 70% of college graduates leave their university with student loans, and in 44 million Americans, they have accumulated $1.4 trillion in student loan debt.
It can be hard to imagine that a decision to fill out scholarships as an 18 year-old student could still affect people well into their 30s and 40s. Guidance counselor Kerry Anderson said, "While $1000 may not seem like much, it certainly could help buy books or other miscellaneous items needed for college."
Although the amount of scholarships being awarded might be daunting, breaking down each one into requirements and eligibility will ease the process. Anderson added," Students should apply all for which they are qualified. The more options the committee has to provide a student with a scholarship, the more likely the student will receive one."
The deadline is rapidly approaching and so is graduation. With the help of the PVEF, the scholarships they offer are geared specifically towards PV students, all in the hopes of bettering their educational future.
About the Contributor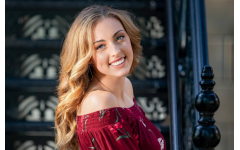 Abby Riley, Sports Editor
Hello, my name is Abby Riley. I am a senior at Pleasant Valley and co-editor of the sports section of the Spartan Shield Online. The past four years I...