Gaming design grows in the PV community
Hang on for a minute...we're trying to find some more stories you might like.
Students have begun to receive a different type of education this semester in the new Coding and Gaming class. The development of video games teaches kids how to code, work in teams, and solve problems.
Similar to other courses at Pleasant Valley High School such as Honors Journalism and Introduction to Robotics, Coding and Gaming is a student-led course. This means the teacher has a small role in teaching the class, allowing the students to run the show. The teams of students in the class have experience in creating their own video games with the freedom to create anything that they can imagine.
Within just a few weeks, the students grasped the basics of the game development process. They have been following tutorials to learn how to use software such as Unity, a popular game development software used by professionals, and Blender, an animation and 3D modeling tool. After learning the software, the students split up into two teams to create games of their own.
One team is currently working on a puzzle-based game set on another planet. The game's character, an alien, interacts with the environment to solve puzzles and pass through levels. The goal is to have the character leave the foreign planet and make it back home.
The other team is in the process of developing a 1920's prohibition themed game. Similar to the popular game, Grand Theft Auto 5, the team plans to create an open world for the player to roam while still following the storyline of a bootlegger delivering to speakeasies.
Sophomore Max Broussalian, a student enrolled in the class, described his experience so far. "It's the students that decide what they want to do. It's the students that create their own goals. It's what I love about the class," Broussalian said. He works as a main coder on the prohibition-themed game.
Broussalian has always had a love for cybersecurity. He enjoys hacking competitions and has coding experience, so creating his own game is a fun, new challenge for him. "I get an opportunity to experiment with tools that personally I never thought I would experiment with," Broussalian said.
Teacher Jason Landa is happy to see how the students are learning. "For the vast majority of kids in this class, they have done a good job of preparing themselves for the final project," Landa said. He says next year, the class will become a more traditional course with increased instruction, but currently, the student-led approach is working well.
About the Writer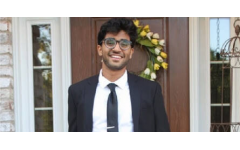 Varun Vedula, Feature Section Editor
Hello! I am the Feature Editor of the Spartan Shield Online. Some of my favorite things to do include a participating heavily in robotics and singing in...