March madness creating madness throughout the school
Hang on for a minute...we're trying to find some more stories you might like.
The NCAA's March Madness tournament is creating its own madness within the walls of Pleasant Valley High School.
The term "March Madness" was coined to describe the annual NCAA Division I college basketball tournament. It is the largest single elimination style tournament in all of college sports. The tournament consists of 68 teams from around the country attempting to advance through six rounds of competition.
The end goal: to be crowned national champions.
Every year, millions of people –both devoted college basketball fans and rookies alike– fill out brackets for the NCAA tournament. Fans strive to create the perfect bracket, but the odds are almost 1 in 9.2 quintillion. In other words, one has a better chance of winning the Powerball jackpot [1 in 125 million] three times in a row than creating a perfect bracket.
While the odds of winning are almost impossible, filling out brackets is a tradition for students. Senior Creighton Clausen is a college basketball fanatic. "I love making brackets. I made 34 [brackets] this year," he said. "I spend so much time watching college basketball, and this is the one time I can see how much I know."  
These brackets allow basketball fans to test their knowledge of the league and potentially earn some money. Senior Macy Beinborn explained, "My friends and I all pitched in 10 dollars; there's ten of us. It's a winner-take-all pool, so whoever's bracket does the best will walk away with 100 dollars."   
With so many games played in the first few rounds of the bracket, there are games streamed simultaneously throughout the day. Students keep up with the fast-paced tournament by watching it on their phones in the hallways, in the lunchroom, and even in the classroom.
History teacher Sara Russell has noticed it, too. "You wouldn't believe the amount of times I've had to take phones away over the past few weeks," she said. "I was giving a test the day of the Iowa v. Cincinnati game and my students refused to stop watching so we made a compromise: I had to keep updating the score on the whiteboard while they took the test."
In the spirit of the NCAA tournament, several PV seniors have created their own "QC March Madness" tournament.
Hunter Snyder, one of the tournament directors, explained the inspiration towards the idea. "We thought we'd get a bunch of high schoolers together from all over the QC and draft teams for a 3v3 tournament," he said. "Then, we'll make a bracket with all of the teams like the real March Madness and see who comes out on top." However, Snyder mentioned a small twist. "We are going to lower the hoops so everyone can dunk," Snyder said.
While NBA playoffs are around the corner, many students still prefer March Madness. Clausen added, "College basketball is much more enjoyable for me. These kids build a brotherhood with their teammates that is nothing like the NBA." Student-athletes are fighting to avoid elimination, hoping they will get another opportunity to play with their teammates. On the other hand, NBA athletes wait patiently knowing their next game is around the corner.
The NCAA's March Madness tournament is an opportunity for sports fans to put their basketball knowledge to the test and for peers to engage in some friendly competition– whether it be with bracket pools or actual basketball games. While Pleasant Valley students have already taken full advantage of March Madness, many wait, with fingers crossed, to see the fateful outcomes of their brackets.
About the Contributor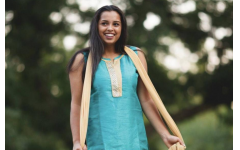 Shreya Khurjekar, Copy Editor
My name is Shreya Khurjekar and I am a Copy Editor for the Spartan Shield Online this semester. When I am not enthusiastically editing articles, I am probably...