Girls' track runs to victory at Lady Spartan Invitational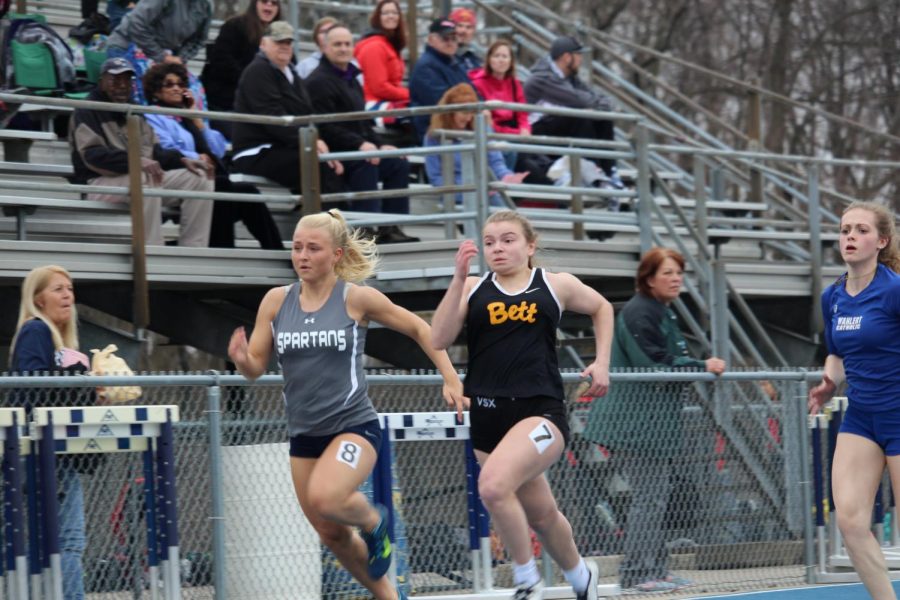 The girls' track and field team took first place at the Lady Spartan Invitational that took place on April 5. They competed against eight teams including MAC competition Bettendorf and North Scott.
With the Lady Spartan Invite being the only home meet of the year, the Spartan runners celebrated their senior night. "It was a great feeling being able to win our home meet, especially because it was our senior night," said senior Carli Spelhaug. Many of the seniors have been apart of the track team throughout their whole high school careers and they had the opportunity to help the team to a win in their last track meet in the Spartan Stadium.
Spelhaug was proud of the team's last performance at their home track. "All of us seniors have put a lot of work into track over these years so to see our hard work pay off is definitely special." Spelhaug participated in the sprint medley, long jump, and the open 200 meter race throughout the night.
On top of placing first as a team, some members qualified for the Drake Relays by reaching the Blue Standard in their respective events. This included in the 4×400 meter relay team, made up of Emily Wood, Adrea Arthofer, Clare Basala, and Harmony Creasy. High jumper Sara Hoskins also qualified. The Drake Relays will be taking place in late April, which means that there is only a couple more weeks left to qualify.
Overall the team performed at a high level that earned them first place. Although track can often look like an individual sport, the teamwork and motivation is what fuels their success. The genuine drive from teammates is what the they is looking for as they hope to peak later in the season. There is a lot of optimism looking into the rest of the season after this victory.
Their next meet takes place on April 11 at Brady Stadium. The Lady Spartans look to take this momentum into the rest of the season at the Drake relays and ultimately into the state championship in May.