Chapter 64: Paris Fietsam
Paris Fietsam is a sophomore at Pleasant Valley High School who is very involved in extracurricular activities.
At school, Fietsam can be found helping out with Spartan Assembly, attending Girls Learn International club meetings, or singing in the PV choir.
After school hours, Fietsam is a member of the girls' track and field team where she runs the one hundred and two hundred meter dashes. She also participates in the Stars Dance Team. Fietsam loves to be involved with all kinds of activities as well as having fun with her friends.
Fietsam expressed how much she enjoys her variety of extracurricular activities."My favorite thing about all of these activities is getting to [meet] a wide variety of people," Fietsam said. "I have gotten so close with people I would have never expected to even talk to through these activities, and I'm so thankful they help create such positive environments."
Outside of school and extracurricular activities, Fietsam loves to hang out with her family and friends. She enjoys this because she cares a lot about these people and knows they will always be there for her when she needs them.
Between juggling sports, friends, and clubs, Fietsam also works at Steel Plow, a burger restaurant in Moline, IL. Fietsam chose to work at Steel Plow because she already knew a few people who worked there. "I love it because it was easy for me to fit in and start working there," said Fietsam.
At school, one of Fietsams role models  is Don Fry, an English teacher at the high school. Fietsam says Fry is always there to help pick her up if she is having a bad day. "He always makes me laugh, and he makes the school a positive place. I don't know where I would be without him," said Fietsam.
As Fietsam goes through high school, she loves having a teacher who doubles as a friend. "Fietsam always has a friendly smile and has a great sense of humor. She has a warm laugh and enjoys friendly conversation," Fry stated. "Fietsam is very perceptive and takes in all that is going on around her."
Fietsam has already been really involved in activities at PV; in the next two years she has of high school, she will continue to be a proactive student.
About the Contributors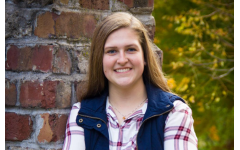 Bri Brauner, Social Media Manager
My name is Bri Brauner and I am the social media manager for the Spartan Shield Online. I am a Senior and the past four years I have been apart of the...
Paris Fietsam, Social Media Manager
Paris Fietsam is currently a senior at Pleasant Valley and is the Social Media Manager for The Spartan Shield. She is heavily involved in extracurriculars...