Concerns of safety in local synagogues
Hang on for a minute...we're trying to find some more stories you might like.
The end of the Jewish celebration, Passover, is usually celebrated among members of the Jewish community, but on April 27, the last day of Passover, the community experienced pain instead of the festivities as another shooting occurred at a California synagogue.
The effects of such anti semitic violence is not only felt by people in and outside of the Jewish community on a national level, but locally as well.
In the early winter of the 2018-2019 school year, Pleasant Valley saw slanderous remarks firsthand against not only those who practice Judaism, but other minorities within the school. Swastikas and German national pride phrases from the Hitler era were found in the bathrooms, along with other vulgar remarks. Though the administration closed the bathrooms affected in order to remove them, it is clear that this and other actions against minorities leave a toll.
Junior Sam Rothbardt, a member of the Jewish community, felt the impacted by what happened in the high school. "I felt kind of mad because I did not understand why people would want to do this. It is also scary to think that these incidents could happen anywhere," Rothbardt said.
Rabbi Jeffrey Lipschultz of the Congregation Beth Israel at the Tri Center in Rock Island, Illinois said he has seen a change within his congregation due to anti semitic violence within the past year. "We feel targeted, and as the rise of hate groups grows in this country, it makes us all very nervous," Lipschultz said.
After the shooting at a Pittsburgh synagogue in Oct. 2018, Congregation Beth Israel made the decision to have police presence at their meetings."We had security for our JRS religious school on Sundays that we share with Temple Emanuel in Davenport, but after Pittsburgh we decided we needed security for Saturday service or when we have a major event like the African diner or a major service," Lipschultz stated.
Beth Israel also took measures of locking doors at all times, including their Saturday service. This not only provided the congregation additional safety measures but also helped put them at ease.
Other places of worship within the Quad Cities have taken safety precautions as well and have police presence during times of heavy traffic.
About the Contributors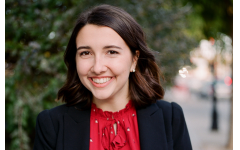 Natalie Murphy, News Editor
Hello! I'm a senior at PVHS this year. Some of my favorite things to do are help lead Spartan Assembly and our NHS chapter, sing in the Leading Tones...