Iowa drops 13 spots in national ranking
Hang on for a minute...we're trying to find some more stories you might like.
U.S. News and World Report recently announced the list of the best states in America. The rankings are based on eight categories ranging from education to energy efficiency.
Iowa was ranked as the number one state in 2018 but had the largest drop of any state this year. Currently ranked at number 14, Iowa dropped largely in part due to a new category based around a liberal agenda intertwined in the US News report.
The new category was added to insure state government involvement in cleaner energy.  The idea of government involvement is a step away from democracy. The responsibility of citizenship mandates that we care for our country and being energy efficient is part of that. Nowhere does any government document imply government control over citizens responsibilities is acceptable in a democracy.  The U.S News and World Report clearly supports government control.
Saying a state is somehow worse than another based on policy towards a partisan debate is both biased and incorrect.  An unbiased report does not include feelings and opinions towards others. Neither one of those things is considered a fact but rather a belief based on a personal standard.  Tainting the U.S News and World Report with bias only hurts the validity of information provided to Americans.
Iowa was given a ranking of 32nd in the environmental category. Based on total emissions per capita, Iowa is ranked twelfth. This past year, Governor Kim Reynolds signed a law giving businesses more freedom and removing government involvement from their responsibility to care for the earth. Signing the law lowered Iowa's ranking in that category.
Another area Iowa scored low in was healthcare. Governor Reynolds privatized Iowa's Medicaid healthcare system this last year. The category is based on the government's support for equal and affordable healthcare for all–which sounded awfully close to Obamacare where he devalued the quality of healthcare and corrupted democracy.  Judging Iowa's healthcare on liberal standards explains the ranking but undermines the credibility of it.
Newspapers all across Iowa wrote on the U.S. News and World Report ranking. Most blamed Iowa's legislature and governor for their conservative policy.  An assessment of a state should come from analytical data that can be compared no matter the states controlling party. The data collected should not cover stances on controversial topics; otherwise, a value is then placed on an opinion.  
The policy of protecting Iowan's from government control does not detract from the quality of life and well-being of Iowans despite comments by Democrat leaders.  "I doubt Republicans will be bragging about Iowa's most recent rankings by U.S. News & World Report because it clearly shows their agenda has Iowa on a steep, downward slide," said Senate Democratic Leader Janet Petersen.
Democrats will take advantage of a biased report to shift blame to Republican lawmakers for removing controlling laws placed by previous democrat politicians. As Iowa reflects on the year and considers areas to improve, the people should focus on liberty and quality of life. A controlling government has no place in democracy and a lack of one should not be looked down upon by third-party rankings.
About the Contributors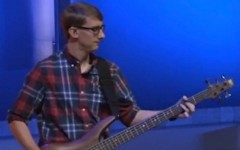 Trevor Glaum, Business Manager
Hi!  My name is Trevor Glaum and I am one of the business managers of the Spartan Shield Online.  I am a senior at PV and I enjoy running Cross Country....