Fashion police: PVHS edition
Homecoming night in the Valley is always one of the most stressful yet exciting parts of the school year. With fashion trends always evolving, students dressed to the nines in this year's most popular looks.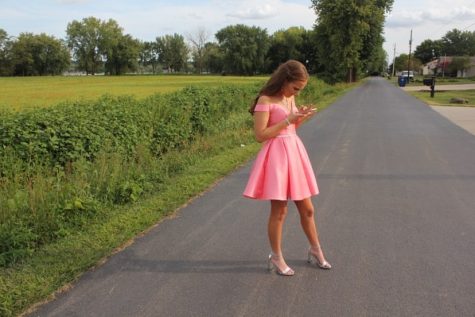 Freshman, Grace Tomlinson, was quick to jump on this year's hottest trends. She wore a bright coral off the shoulder dress with small, but tasteful sparkle accents, purchased from Special Effects. "It stood out from most of the other dresses I saw," said Tomlinson. A simple silver heel along with a necklace and earrings tied the look altogether. Tomlinson wore her hair curled with two pieces back and had a very neutral makeup look. She undoubtedly made an incredible statement at the first dance of her high school career.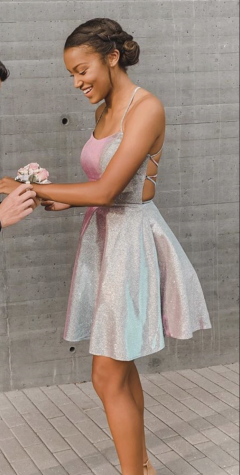 Iridescent color is one of the most popular trends this year, according to Seventeen Magazine.
"That was what originally made me pick my dress," said sophomore, Jayne Abraham. Abraham purchased her dress this year from PromGirl, an online dress shop. She paired her dress with a braided bun hairstyle and her simple, but glamorous makeup was done by a friend. Abraham also wore a simple nude heel that finished out the look perfectly and gave her more confidence than ever.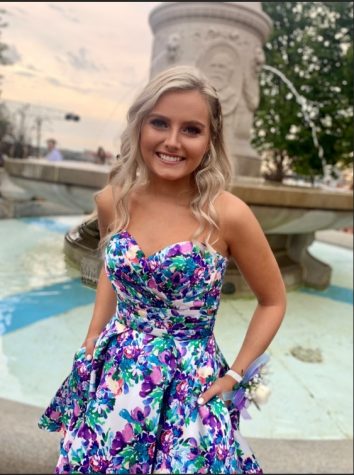 Floral is always one of the top trends, according to the popular dress brand Mac Duggal. It is fresh and clean, while still being fun. Junior Libby Bowe wore a strapless sweetheart neckline bright floral dress she had found at Blush Dress Shoppe in Davenport. "I picked it because my sister had wore it and I loved how the colors popped," said Bowe. With a bright royal blue heel, she also wore her hair curled with a braid on the side.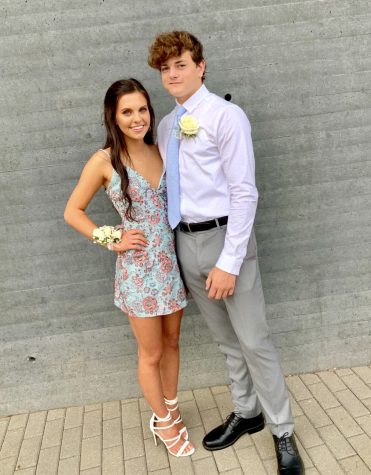 Senior year homecoming can be an extremely important event for many girls. Girls want to step out looking their best one last time while still being on trend. Julia Necker exemplified that perfectly. Necker wore a light blue slip style dress with a floral pattern she purchased from Hello Molly. "I chose this dress because of the flower design and the pretty colors. I've never worn a dress with a design before," says Necker. She finished off her look with a strappy white heel and gold accessories. Her hair was beautifully curled and she had a pink and brown based makeup look that accented her dress.