Passion for Fashion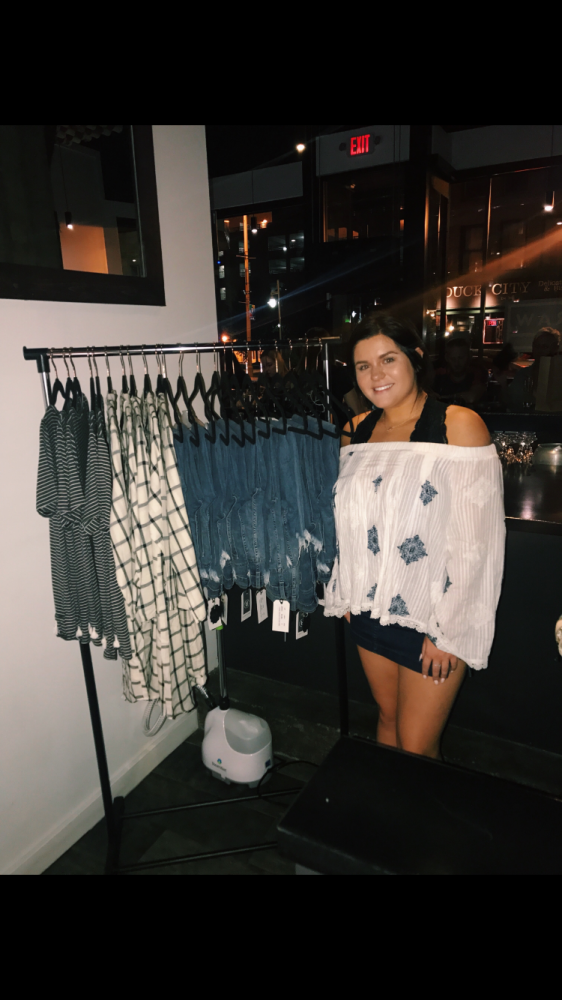 Chloe Lochner is new to the world of entrepreneurship and she is entering with great dedication. Her store, Chloe's Closet Apparel and Accessories, was started because of the great happiness that fashion brings into her life. Her goal is to help young women find a style perfect for them.
Lochner started her store after a vacation to the South during the summer. While she was traveling, she was inspired by many small businesses and clothing boutiques. She was given the opportunity to work with some of these owners, who helped guide her dream of starting her own business. With the help of the owners, and her mother, her business was off to a bright start.
Lochner sells women's contemporary clothing and accessories. Lochner said, "I don't like to put an age on who my customers should be because if you like what you see, you should wear it!" She plans on selling different items during different seasons such as long sleeves, pants, and boots for the upcoming fall and winter weather. Currently, her store offers a variety of tops, frayed jeans, multiple dresses, and exquisite jewelry. One of her feature items is a grey and black windowpane dress with a keyhole in the back. This dress screams fall because of its turtleneck design, cool toned colors, and comfy fabric material. Her other dress is a light, flannel dress with a v-neck cut. This cosy dress has the ability to be dressed up for a fancy occasion, or dressed down while still maintaining its classic charm. Her shirts have a fall feel to them; warm and comfortable.
Lochner purchases her merchandise from other clothing vendors. What she decides to buy is based off current trends. She said, "I am constantly looking on Instagram and Pinterest for inspirations on what girls are wearing. I try to pick things for everyone but obviously, as I am just starting, I'm still getting the hang of purchasing for everyone's style!'
As of right now, Lochner's store is online and has pop-up shops. Pop-up shops are temporary storefronts that can be hosted anywhere. This way, she can bring her store anywhere and to anyone. After college, she plans on opening a brick-and-mortar storefront in Tennessee.
Lochner has been using her friends and students to model her clothing. Her website displays multiple pictures of each article of clothing in order to show all angles. Lochner said, "I love being able to use my friends and show that anyone can wear my clothing."
Anna Worden is one of the models for Chloe's Closet Apparel and Accessories. Worden said, "I like modeling for this store because the clothing is super cute and very in style! Everything is so comfy." Lochner is open to having anyone model her clothing.
Lochner's store is very well organized, trendy, and accessible. She is a clever business woman who is a prime example of the power of determination. She has shown the Pleasant Valley community that anyone can accomplish their dreams, no matter how young.
About the Writer
Hannah Gorsline, Photo Manager
My name is Hannah Gorsline and I am currently a senior at Pleasant Valley High School! Along with being a photo manager for the Spartan Shield, I am also...