Spartans shutout in Eldridge

The Pleasant Valley varsity football team faced off against the North Scott Lancers Friday night in Eldridge, but were shutout in a defensive showdown.
Pleasant Valley posted zero points against a top-3 3A North Scott football team. The Spartans defense was perfect in the first half, but the offense made too many mistakes to get any momentum. Senior lineman Hunter Peiper said about the defense, "We had a lot of guys that like to play with a motor, and a lot of teams arent used to playing against that."
The Spartans have been plagued with injuries in the first three games. Running backs, Caden Kipper and Matt Mickle were both out during the game which could have contributed to the sputtering offense. 
Once again, the Spartans defense held up for the offense to be able to make a move. They held the Lancers to zero points in the first half, but luck was not on the Spartans side. 
With time ticking away at the end of the second quarter, Ryan Mumey threw a pass to José Lara, but Lara was not ready for it. The ball bounced off Lara's back and was picked off by North Scott cornerback, Ty Anderson, and returned to the PV 26 yard line. North Scott didn't produce points off the turnover.
After the half, the Spartans started off with the ball, but threw an interception on the second play of the drive. From there on out, the Lancers offense produced 20 points and closed the game with a score of 0-20.
Pleasant Valley only registered 70 total yards in the game, 150 less yards than playing against a better defense in Bettendorf. The lackluster offense had more turnovers than points. Mumey threw two interceptions, but the first interception was not his fault.
The Spartans have had a tough schedule so far, three top ten football teams in the state in a three game span. The defense is holding the Spartans in every game, and if the offense can produce, they could be in good contention as the season spans out.
The Spartans can turn around their season by focusing on improving offensive efficiency. The Spartans have great team chemistry that other teams lack. "Our chemistry is great because the bonds that we formed with each other when we were younger has made us a better team overall." AJ Tappa said.
The Spartans next game is against Central this Thursday at Brady Street Stadium.
About the Contributor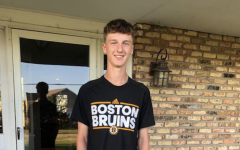 Ian Wilger, Photo Project Manager
Ian Wilger is the sports editor of the Spartan Shield Online publication. As a senior here at Pleasant Valley, he plans on majoring in journalism at an...