Voices of the Valley, Episode #9: Tap on that: Local woman earns place on Wall of Honor
Little wooden plaques with golden writing line a wall of Pleasant Valley High School's main hallway. To the students, they are reminders that greatness lies ahead for those willing to work hard for it.
But for those whose names are engraved on the plaques, they are a visual representation that they've made their dreams come true.
The Wall of Honor Program was established in 1999 to recognize accomplished alumni who have graduated from Pleasant Valley High School. This year's recipient is local entrepreneur Katie Wilson, the mom of two high school students and daughter of the school nurse.
Wilson graduated from PV in 2001 where she was a varsity cheerleader and choir member while maintaining four years on the academic honor roll. She then pursued a bachelor's degree in business management and accounting at Iowa State University.
With any big career move, there can be a lot of worry. But Wilson took a leap of faith when applying for a job in advertising and marketing for the Quad City Times. "I got hired in at a very entry level position on the digital side of things," she said. "I learned quickly that I loved marketing, I loved helping businesses grow their business."
Wilson held the position of digital marketing manager for eight years and was able to work with businesses big and small. It was important to her to notice how businesses have changed their marketing strategies.
"Media and advertising has changed a lot over the years, even the past five years," Wilson said. "You think about social media and how businesses can advertise, there are so many more options."
Wilson knew she wanted to create a new form of advertising for businesses, but with a little bit of incentive for consumers. "I wanted to build something that didn't have a revenue share," she said.
Wilson also saw a future in text message marketing. "We all have our phones within arms reach throughout the day and about 99% of all text messages are opened," she said. To her it just made sense.
"If I could work with businesses to put great offers and promotions into the hands of people who signed up to receive them, it would be a win win," said Wilson.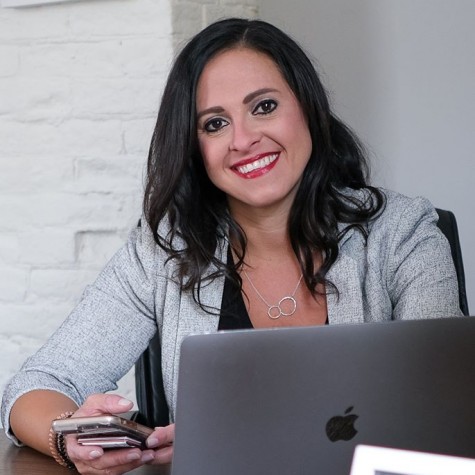 With the help of people around the Quad Cities, Wilson was able to raise one million dollars locally and launched TapOnIt, a platform that drives traffic, awareness, and sales to local businesses through text messages, in April of 2015. 
"The majority of the offers we have are food and beverage, entertainment, and retail," said Wilson. Through a message link that opens into a browser, one can redeem offers at the location. 
Wilson's business was started here in the Quad Cities almost five years ago and is now  active in 15 states, 38 markets, and are reaching about 220,000 people. 
This new way of finding the best deals has made a large impact, especially here locally. Many now say when deciding what to eat for dinner that night, they look to TapOnIt to see the best deals available. 
TapOnIt has also provided a solution to help grow small, local businesses. Bringing traffic through the door is keeping local businesses alive and making more jobs available. According to Wilson, having booming local businesses helps pay for schools and emergency services as well as keep a city unique. 
While this is definitely an accomplishment for Wilson, her mother, high school nurse Pam Cinder feels a sense of accomplishment as well. 
"I am so beyond proud," said Cinder. "She works so hard and she gives back to the community a lot and she loves to be involved in things at [the] school."
Even with all of this success, Wilson still has goals for the future. "Our goal by next year is to be in every state across the United States," she said. "My goal is truly to grow a brand that is international."
Her biggest advice for anyone looking to also be an entrepreneur is to network. "When I met someone who could potentially be a good connection to have in the future, I made sure to send an email," said Wilson. "People really do want to help other people."
Wilson was recently recognized for this honor and her incredible work at the National Honors Society Induction Ceremony on Nov. 14. 
Because of her work over the years with her career, she has proven that any small town business can make a large scale impact. 
Your donation will support the student journalists of Pleasant Valley High School in Bettendorf, Iowa. Your contribution will allow us to purchase needed equipment and cover our annual website hosting costs.