Colin Kaepernick vs NFL: another chapter in the longstanding dispute
Free agent quarterback Colin Kaepernick received the opportunity last Saturday to showcase his talents in front of eight teams in his pursuit to return to the National Football League (NFL).
Kapernick exercised his first amendment and led a controversial, yet peaceful protest during his tenure in the NFL against the oppression of minorities. "I am not going to stand up to show pride in a flag for a country that oppresses black people and people of color. To me, this is bigger than football and it would be selfish on my part to look the other way," he explained in a post match interview in 2016. 
According to Kapernick, his courage to stand up by kneeling down resulted in NFL teams declining his services and derailing his football career.
Fortunately for Kapernick, the NFL agreed to hold a tryout for him to display his overlooked and forgotten talents among team scouts. 
However, the original tryout in Atlanta was to be completed behind closed doors and without media. Upon hearing this, Kaepernick relocated his tryout to a local high school so media could attend. As a result of Kaepernick's desire to play in front of the media drove the initial 24 teams attending down to eight.
Some speculation regarding Kaepernick's motives behind the last minute location change has risen since the tryout. ESPN Analyst Stephen A. Smith claimed that Kaepernick is trying to publicize himself. "[Kaepernick] doesn't want to play football. He wants to be a martyr," Smith said.
However, Kaepernick insisted after his tryout he wants to play football again and told the attending scouts, "I've been ready for three years, I've been denied for three years."
Senior Jacob Holland, a loyal Chicago Bears fan, is currently frustrated with his team's lack of quarterback talent. "Mitch Trubisky has been playing awful recently, and there aren't any better options on the bench," he said, "If he deserves it talent-wise, he should be given a chance. There's no reason he's not a starter or backup on any team."
Kaepernick finally got a chance to display himself in front of scouts. While the circumstances were not perfect, his chance of an NFL return has never been more likely. If given a chance from a team, this tryout could be an end to the longstanding debate. If not, the tryout will simply be known as another chapter in Kaepernick's absence from the NFL.
About the Writer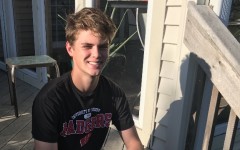 Jack Donahue, Opinion Editor
Jack Donahue is a senior at Pleasant Valley High School and the opinion editor for the Spartan Shield Online, but he is also much more than that. Jack...