Modern sensitivity: a new society takes offense to seemingly everything
Hang on for a minute...we're trying to find some more stories you might like.
As technology, communication and society have progressed, people have been able to share their ideas and views more easily, but it has also become increasingly difficult to maintain a good status with others in terms of political correctness.  
No one can please everyone. There is always someone who will oppose another's viewpoint or have a differing opinion on a heated topic. The difference in today's world, however, is the way people react to opposing opinions and ideas, and it seems to have all started with social media.
While social media isn't the only factor to blame, it's easily the largest. Senior Jacob Holland blamed social media. "The introduction of social media caused people to become overly sensitive because it exposes them to a greater number of people sympathetic of the same issues," he said. 
While technology has made modern life better in many ways, it has also put a screen of protection between two people of opposing ideas. When people see others with the same views, they suddenly see their opinion as fact.
Comedians, such as Dave Chappelle, have spoken about how important it is to maintain style, diction, and ideology, even if it offends others. In a recent special, Chappelle spoke of how it is a comedian's job to say crazy things that others won't. This is understandable, as today it can be hard to say something without someone piping up about how someone's words or statements are offensive or inappropriate. 
Everyone has the freedom of speech (to an extent), but often people focus more on the right to be offended than the right to free speech. "I believe that people need to understand the difference between criticism and insults," said senior Spencer Brecht. 
Brecht's comments reflect exactly what YouTubers are saying about a policy recently put in place on the platform. The new policy restricts creators from speaking poorly of other creator's based on their person. While this policy seems positive on the outside, it is simply taking away the right to free speech in reality. YouTube is fully allowed to do this because it is a private company, but it has upset numerous creators and viewers.
The seemingly hurtful, but honest, truth is that not everyone's opinion matters. People say ridiculous things for attention or to upset others, and those people are only trying to get reactions, which people nowadays are, unfortunately, providing. 
"I believe it could be possible to get back to a state where we can criticize people without backlash, but it seems as if our generation doesn't like to talk about topics that are sensitive," Brecht said. Society needs to get back to a point when people can understand that not everything is an attack on another. If something is upsetting, one should just take a step back, think about if it's worth reacting to, and about the most appropriate way to respond.
About the Contributor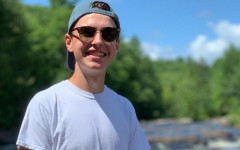 Jackson Schou, Copy Editor
Senior Jackson Schou is a copy editor for the Spartan Shield Online. At Pleasant Valley, Jackson participates in the Spartan Band Program where he is a...