PV ranked top school district in Iowa
Hang on for a minute...we're trying to find some more stories you might like.
Pleasant Valley Community School District (PVCSD) has consistently been known to be one of the top school districts in the state. As of this year,  Pleasant Valley is able to boast the title of "Best School District in Iowa" according to Niche and MSN.
PVCSD consists of seven schools. The high school, junior high and five elementary schools Together, these schools make up the district's enrollment of 4,870 students. 
There were many factors that were taken into consideration: academic proficiency, test scores, teacher quality and college readiness. 
Approximately 97 percent of Pleasant Valley's enrolled students graduate from the high school, one of the highest in the state of Iowa. The district has hopes to to potentially increase this number to 100 percent in the near future. 
Test scores were, additionally, a large component in the determination of Pleasant Valley's ranking Pleasant Valley students are 93 percent proficient in math and 89 percent proficient in reading, according to Niche. This data displays the excellence obtained by the students, as the numbers are the highest out of all the districts in the Mississippi Athletic Conference and some of the highest in the state. 
There are many things that contribute to these outstanding rankings that the Pleasant Valley district holds. One of the biggest causes of this achievement "is because of the hard work and the commitment of our students, our parents, teachers, support staff, administrators and our collective community," stated Superintendent Brian Strusz. This group of people has created a student-body made of driven, well-rounded and determined students. 
Students would not be able to achieve such success without their teachers. The district intends on building a great group of faculty for years to come. Strusz added, "We're simply looking for the best possible teachers that we can have that will make a difference in the classroom for our kids." According to Niche, many of the teachers have been working there for more than three years, as first/second-year staff only make up 7.9 percent of the faculty. 
The teachers' dedication to students is widely recognized among the student body. The teachers throughout the district have a purpose of creating a healthy learning environment for their kids, and many students agree. Junior Ceely Patramanis said, "Nothing makes me more motivated to learn than a teacher who clearly cares about my growth and that cares about their subject." Pleasant Valley teachers hold a strong goal of creating a strong student-teacher bond. "This has been very evident in all of my classes throughout high school," Patramanis emphasized.
Pleasant Valley's district motto is "Committed to Excellence" and that is quite apparent. As Pleasant Valley continues to expand, the district continues to succeed with the dedicated students, parents, and faculty.  
About the Contributor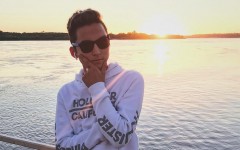 Nate Martell, News Editor
Senior Nate Martell is an active member of Pleasant Valley High School. Along with being the news section editor with the online Spartan Shield, Nate is...