Seniors take the unbeaten path to graduation
While many students take the traditional path and plan to graduate in may, some seniors find the opportunity to graduate early beneficial., prompting students to make it through the last semester of their senior year, but others decided it was unnecessary.
The decision to graduate early is caused mostly from the students desire to leave the environment of high school.. The students are motivated to get out of the "high-school funk" and ordinary routine of the last four years, they decide to graduate before May and start the next chapter of high school..
Addie Even and Olivia Marchiori were two seniors who graduated early, earning all their necessary credits before the end of the first semester in the 2019-2020 school year. Most thought it was typical for seniors to graduate at the designated date, so there is a stigma about early graduation.
"Most of high school is a waste of time," Marchioro said. "By graduating early I can take more classes that I need and that will benefit my future rather than filling in the year with useless classes." 
Marchiori thought high school doesn't prepare the student for college in the next year; she believed she could make better use of her time by taking courses at Scott Community College.
Marchiori knew that she was going to graduate early last year and decided to fill up the curriculum requirements so she could attend the University of Iowa in the fall of 2020.  She talked about the opportunities given to her by graduating early. "It helps prepare you for University and helps give you more free time for work or other activities," she said. Marchiori explained the accommodations of leaving school early to be less stressed and more time given to prepare for college. 
Even, also decided to graduate early and attend the University of Iowa next Fall, but took a different approach to the idea of graduating earlier by explaining the difficulties of the day to day functions of being in high school.
She explained the struggles by saying, "High school really just wasn't my favorite thing. I got tired of going to school and would miss so many days because I had bad migraines and got sick a lot. I was having trouble with staying for a full day of school and figured it could be easier to only have fewer classes a day." 
Even explained the viewpoint of  having the daily struggles of high school, exemplifying the reason for her removal from the school and activities to make the schedule easier for her transition next year.
The decision to end high school early has caught onto many students reinforcing the idea to others to follow the same unbeaten path.
About the Writer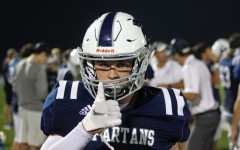 Blake Sherman, Photo Manager
Blake Sherman, a student athlete at Pleasant Valley High School, is a fun, kind and motivated person who enjoys spending time with friends and family as...